Made in LA: Meet the new (and obsessive) breed of LA food artisans
From the handsomest guys behind Downtown's coffee to the hardest working gal of Silver Lake's hand-batched jams, get to know some of the best LA food artisans
By Katherine Kims Mon Oct 1 2012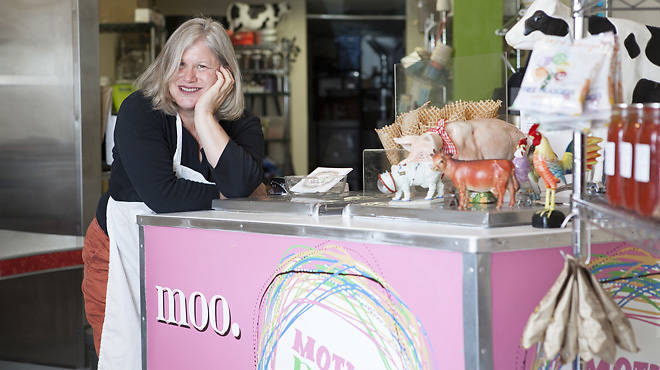 Karen Klemens of Mother Moo Ice Cream Photograph: Jakob N. Layman
Handsome Coffee | Sqirl | Brassica & Brine | More...
Mother Moo
Who: Karen Klemens, preserver
What: Handmade ice cream
Where it's made: Sierra Madre, CA
Taste it at: Mother Moo Creamery, Lindy & Grundy
The Scoop: Karen Klemens is one of LA's master preservers and a self-described urban homesteader. She founded Mother Cluck preserves and continues the preserving tradition with Mother Moo's ice cream. "Ice cream," she says, "is one of the most social foods." At her Mother Moo ice cream parlor in Sierre Madre, locals and families stop in for a root beer float, milkshake and ice cream in signature flavors like chocolate (three types of chocolate, flecked with salt) and triple milk (a combination of buttermilk, cream and non-fat Strauss milk).
Ice cream trivia: As Karen reminds us, "Ice cream is actually another form of food preserving." Cue elementary school flashbacks of rolling cream, egg, and sugar in salt and ice.
Angelo & Franco
Who: Angelo Tartaglia and Franco Russo, cheese makers
What: Fresh cheeses like mozzarella, burrata, ricotta made by real Italians
Where it's made: Hawthorne, CA
Taste it at: Fox Pizza Bus
The Scoop: Two Italian friends Angelo Tartaglia and Franco Russo met in Bagnoli, Italy, where Russo's family has been making mozzarella cheese for three generations. They brought the same cheese-making tradition (and machinery) to LA's South Bay with fresh cheeses made with California dairy. While the company distributes to Whole Foods, Russo oversees the five-hour production every morning, and hand makes its burrata. Fox Pizza Bus uses their mozzarella and ricotta exclusively on its wood-fired pizzas.
Authentic find: The homesick Russo confesses he can't find any good Italian fare stateside, but has found near authentic eats at Malibu's Tra di Noi.
Saving the Season
Who: Kevin West, preserver
What: Small batch preserves
Where it's made: Pasadena
Taste it at: Lindy & Grundy, Domaine LA
The Scoop: Tennessee native Kevin West may have started in the fashion world as an ex-W editor, but his self-professed "weekend project to hobby to obsession" of making seasonal preserves—inspired by "Gram's"—has turned into Saving the Season. His small batch jams—West turns out 12 jars at a time—are made with local fruits like Blenheim apricots and also include a Scotch marmalade he developed for buddy Scott Sternberg's Band of Outsiders. He teaches preserving at Altadena's Institute of Domestic Technology and his preserving cookbook Saving the Season will be released by Knopf next spring.
Dirty little secret: His favorite way to enjoy jam? Straight outta the jar.
---