Air Sex World Championships: Everything you ever wanted to know*
We present a handy, wipe-clean guide to the Air Sex World Championships: What is it? What are the rules? What the hell?
By Time Out editors Tue Aug 20 2013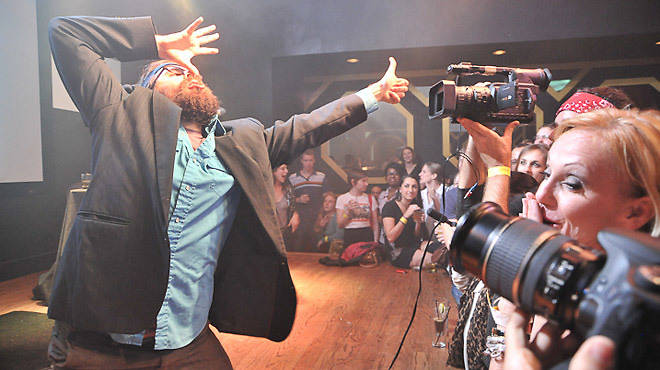 Photograph: Courtesy Air Sex World Championships
*And plenty of stuff you would have preferred not to know.
The
Air Sex World Championships
have been dry-humping their way across the country since 2009, and we're no stranger to the simulated taste of victory here in LA: our very own Shanghai Slammer out-performed every other city's champion at the fest's first national installment. The rules for this contest—which will be held at
the Satellite
in Silver Lake this Saturday, August 24—are simple: Contestants have two minutes to get down and dirty with an imaginary person or object—think a
striptease
with no nudity and only simulated orgasms. Comedian Chris Trew hosts the comically absurd night in two acts: A panel of sexperts (i.e.
music
and
comedy
locals) pick three finalists to move on to a championship round where the audience then crowns the winner. LA's best performer gets another shot at glory in the regionals for a chance to come out on top at the yearly world championship in Austin.
Think your air-guitar technique is pretty good? Well, time to practice your air-thrusts with the help of these sizzling tunes.
One of last year's winners shows us the routine that earned her the title.
Contestants dry humped, air thrusted and elbow kissed their way to the top—and we caught it all on camera. The Air Sex World Championships slipped into the Satellite last weekend for the Los Angeles edition of the world's classiest collection of dry humpers. Each contestant—simulating solo sex acts that left nary a dry seat in the house—gave it their all in hopes of becoming LA's reigning Air Sex champ. Check out our best shots from the night. You might also like Best weekly gay club nights in LA Dance your pants off at the best gay club nights in Los Angeles. Looking for a place to shake, grab—and potentially score—some ass in LA? Whether twink, bear, otter or drag queen, we've got you covered with our list of the best gay club nights in the city.  MuMo: Musical Mondays Los Angeles gets a taste of Broadway once a week on Musical Mondays (MuMo) at the massive Eleven Nightclub. Unlike most nights, when the latest Top 40 dance hits can be heard in heavy rotation at the Santa Monica Boulevard hotspot, the genre of choice on Mondays at Eleven is musicals... purely musicals. For one night only, Gaga, Beyoncé, Madonna and Rihanna take a backseat while the songs of musical legends like Barbra Streisand, Patti LuPone, Kristen Chenowith and Linda Eder rule the stage. A mix of live performances and videos of classic moments from Broadway and film make this not only one of the most feel-good nights of the week, but also one heck of a reason to actually look forward to Monday
Missionary style is for the birds: Angelenos get artistic over their steamiest sex acts.
---
You might also like
---
Time Out Los Angeles on Spotify