CicLAvia 2012: Your guide to LA's bike event of the year
Going to CicLAvia? We've got you covered with the best places to fix up your fixie, the best groups to ride with and where to stop for drinks along the way!
Courtesy CicLAvia
Who says LA doesn't have a sense of community? On Sunday, from 10am to 3pm, thousands of Angelenos will Metro, bike, walk and skate to CicLAvia, an annual event that temporarily bans cars from miles of interconnected city streets. With six different hubs, food trucks, music and family-friendly activities—it's the biggest rolling street fest of the year! And we've got you covered with a CicLAvia route map, the best co-ops to get your bike fixed up, the best bike groups to meet up with and, of course, the best bars for tippling along the path. Roll on!
See event details for CicLAvia
You'll find bicycle repair guidance, bike-building tools—and a helpful hand at these top co-ops.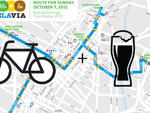 We've mapped out your guide to Downtown's best bars and restaurants to pit stop.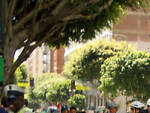 Want some company at CicLAvia? Here are some of the city's best bike groups that are going your way.
Ready to roll? Print out this handy map of CicLAvia's paths and hubs.
You might also like
Share your thoughts
Time Out Los Angeles on Spotify