Things to do in Los Angeles: Best fall food classes
Looking for foodie things to do in Los Angeles? Feed your mind and your belly at these fall food classes from cheesemaking to pasta making.
By Katherine Kims Tue Sep 3 2013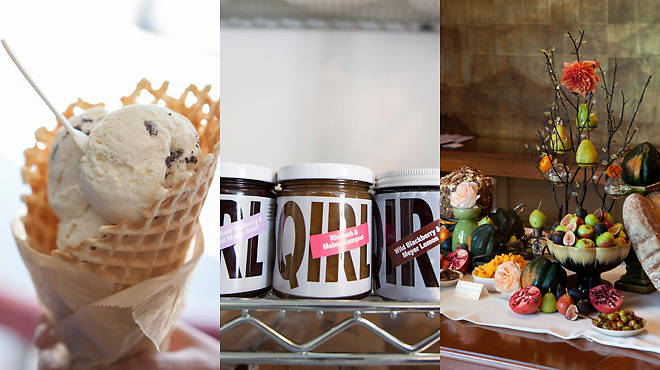 So, you want to be a cheese maker? Whole hog butcher? Wannabe farmer? Learn to do it yourself: everything from home roasted coffee beans—yes, from a Whirly Pop popcorn maker—to a farm-to-table lunch (or rather, garden-to-table, with pickings from your own edible garden, which you can learn how to make too). Read on for the whole nine of LA's best fall food classes.
---

Cheesemaking
Pasta making
Art + Food class

---

Classroom
Institute of Domestic Technology
Wolfgang Puck at Hotel Bel-Air
LACMA + Surfas
The Getty Villa
The Huntington Library

---

Syllabus
You'll be a bona fide cheese nerd after this three-class series of cheese tasting, pairing and making—from fresh (ricotta, crème fraiche, chevre, mozzarella) to hard (Gouda). The intimate (and intensive) classes are limited to 12 people.
Learn how to make pasta from scratch at Wolfgang Puck at Hotel Bel-Air. While less mangia, mangia, the one-hour demo with chef Sonny Sweetman covers different types of pasta and hand making noodles such as pappardelle and tortelloni into gussied-up plates with, say, wild mushrooms, melted leeks and peas or filled with white corn and burrata, at this glam retreat for ladies who lunch.
Art meets food at Maite Gomez-Rejon's ArtBite classes that take aesthetes and foodies through special exhibits of, say, Central Africa or ancient Persia, then to the kitchen to prepare (and eat) a meal based on the artwork's theme. The result? A viewing of Habsburg art ends with a feast fit for a king.

---

Snack time
Your long day in the classroom starts with a Continental breakfast of freshly baked scones and local Plow + Gun coffee served with goat's milk. At the end of class, enjoy the fruits of your labor with pizza made with the day's student-prepared mozzarella for a family-style lunch.
Homemade pastas are for the tasting during the one-hour session. Expect noodles prepared with seasonal ingredients such as signature agnolotti stuffed with celery root and Fuji apple and topped with Pecorino Romano for the fall.
The final hoorah of the day's labor lesson is a full, family-style meal. td>

---

When
Saturday, September 14 from 10am-3:30pm
Saturday, October 12 from 10am-3:30pm
Anytime. Rally five other friends (a minimum of six is needed) and reserve two weeks in advance.
Saturday, September 21 from 1-5pm
Saturday, Sunday, October 12, 13 from 1-5pm
Saturday, November 9, 9am-12:30pm
Thursday, Friday, November 14, 15 from 11am-2:30pm

---

How much?
$595 for 3 classes or $225 for one
$85 per person
$85, $100 for LACMA tour/class

---
---