Things to do in Los Angeles today
Today's best things to do in Los Angeles—including free and cheap activities, concerts, screenings, shows, parties and more. It's your social emergency savior.
By Time Out editors
---
Tonight's best film screenings
---
Tonight's best shows and performances
---
Today's best food and drink event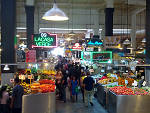 It's about time GCM extended its hours, and to celebrate, LA's oldest public market will be home to game night every Thursday from 6pm to 9pm. Select eateries will be open through the night, including Eggslut, G&B Coffee, Sticky Rice and Olio GCM (check their website for the full list). Test your friendship with a game of Uno, get NC-17 with a pint of Cards Against Humanity or bond with the family over Scrabble—game night is perfect for anything from a platonic night out to a first date (hopefully it won't be ruined by a heated match of Jenga).
---
Tonight's best comedy show
This weekly comedy showcase in Los Feliz hosts one of the most stacked lineups of stand-ups this side of the 101. Located above a Chinese restaurant, the free Comedy Palace attracts a steady stable of late night show regulars every Thursday as well as surprise guests—you never know when Patton Oswalt will drop in or Maria Bamford will mount a month-long residency. It's worth every penny... if it actually cost you any to begin with.
---
Today's best arts and culture
Still from "Mary Poppins." Costumes from the movie will featured in the "Hollywood Costume" exhibition. Photograph: courtesy of the Academy Museum of Motion Pictures
Price band: 2/4
Critics choice
The last stop of this exhibition's world tour is at the upcoming Academy Museum of Motion Pictures—in the Wilshire May Company building next to LACMA. It's a collaboration between the Academy and the Victoria and Albert Museum, London. See some of the film world's most well known costumes in person, and get to know the designers who made them a reality. In addition to the 150 costumes in the original show, the Academy will add 50 more to this exhibition from its collection, including Dorothy's ruby slippers and her blue gingham dress. Watch the trailer (for the exhibition, of course—it is the Academy after all) and make sure to book your time-slot tickets in advance.
Price band: 2/4
Critics choice
The rise of Nazi Germany drove numerous artists to flee Europe and settle in America, where they helped create Hollywood's Golden Age. The Skirball Cultural Center celebrates these émigrés through an exhibition featuring the works of notables such as Otto Preminger, Billy Wilder and Marlene Dietrich. You'll have the opportunity to see clips of anti-Nazi, comedy and flim noir movies starring these "exiles and émigrés" as well as costumes, manuscripts and photos—with contributions from the Academy of Motion Picture Arts and Sciences library—that'll give you a comprehensive look at early 20th century cinema.
Detail from Archer Coe and the Thousand Natural Shocks, illustrations by Dan Christensen and story by Jamie S. Rich, 2014 Photograph: courtesy of the Skirball Cultural Center
Price band: 2/4
Critics choice
Accompanying the Skirball's "Light & Noir: Exiles and Émigrés in Hollywood, 1933–1950" exhibit, "The Noir Effect" promises an insight into the impact of the film noir genre on American culture. Take a look at the femme fatales, private eyes and anti-heroes of early 20th century films such as Chinatown as well as graphic novels—think Spiderman Noir—photography and contemporary works and how they permeated the art, media and pop culture of American society. 
---
You might also like
---
Make a restaurant reservation
Rated as: 4/5
Price band: 3/4
Critics choice
Make reservation
Price band: 3/4
Critics choice
Make reservation
Rated as: 4/5
Price band: 3/4
Critics choice
Make reservation
Price band: 2/4
Critics choice
Make reservation