Hot Fuzz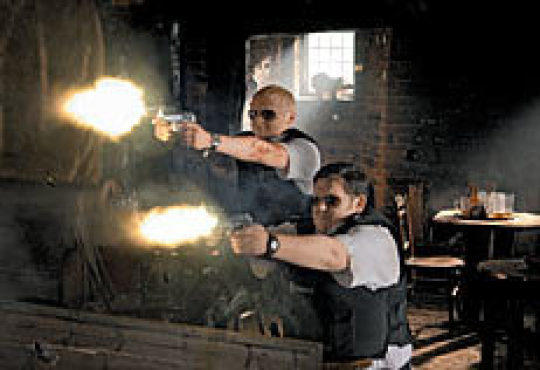 LOST ACTION HEROES Pegg, left, and Frost blaze up.
Time Out says
Tue Feb 13 2007
The Sandford Players' tribute to 'Romeo and Juliet' isn't your average pig's ear of a local production: this particular pig's ear is modelled on Baz Luhrmann's high-octane celluloid adaptation, down to a curtain-call singalong of The Cardigans' 'Lovefool', as featured on Luhrmann's soundtrack. Wham-bam am-dram – surely a hiding to nothing if ever there was one? Yet with 'Hot Fuzz', as with 'Shaun of the Dead' before it, Edgar Wright and Simon Pegg show that a Hollywood genre aesthetic can be grafted onto the preposterously inappropriate fabric of banal English life with surprising success – as long as you take it seriously.Pegg plays Nicholas Angel, a high-achieving London sergeant dispatched to the West Country because he's showing up his fellow Met officers. Greeted reasonably warmly, especially by town drunk and fellow copper Danny (Nick Frost), he makes some stiff steps towards finding a place in the tight-knit community. But, compulsively alert as he is, Angel starts to wonder if there's more to a series of 'accidental' local deaths than meets the eye…
Though Wright and Pegg's latest is stocked with as many film and TV references as 'Spaced' and 'Shaun…', it mines most of its plentiful laughs from the collision of Angel's uptight uprightness with the lackadaisical village ways of Sandford, a genteel backwater of quintessentially English naffness that suddenly becomes the backdrop for a crescendo of disarmingly credible chase and shoot-out set-pieces. It's Pegg's stonily straight-faced performance – amid an almost distractingly high-calibre cast of comedy stalwarts (Bill Bailey, Olivia Colman, Adam Buxton) and legit luminaries (Jim Broadbent, Billie Whitelaw, Timothy Dalton as a moustache-twirling supermarket manager) – that holds things together, and also reflects the film's essentially respectful attitude towards the action movie. 'Hot Fuzz' isn't a spoof or parody: its jokes aren't at the expense of genre expectations, but its characters' failure to live up to them; correspondingly, the editing is sincerely frenetic and the violence, though sometimes ridiculous, is strong and bloody. It's not a perfect template – running motifs are glaringly flagged up and there are at least two too many climaxes – but for both gags and thrills, few current British filmmakers come close. The Sandford Players can eat their hearts out.
Author: Ben Walters
Release details
Cast and crew
Cast:
Roy Porter, Jim Broadbent, Nick Frost, Edward Woodward, Rafe Spall, Anne Reid, Simon Pegg, Martin Freeman, Bill Bailey, Timothy Dalton, Ken Cranham, Kevin Eldon, Steve Coogan, Karl Johnson, Paddy Considine, Olivia Colman
Producer:
Eric Fellner, Nira Park, Tim Bevan
Screenwriter:
Edgar Wright, Simon Pegg
Cinematography:
Jess Hall
Director:
Edgar Wright
Users say
<strong>Rating: </strong><span class='lf-avgRating'>0</span>/5