Coral Gables neighborhood guide
Get to know Miami and SoFlo area by area—the best local restaurants and bars, arts and entertainment and things to do in Coral Gables
By Time Out editors
Venetian Pool in Coral Gables, Miami © Alys Tomlinson
There is substance behind the boast of this self-ordained "City Beautiful." Coral Gables residents enjoy a peachy habitat of terracotta roofs, jewel-like colors and (mostly) lush vegetation. Once a tiny Miami suburb, founded in 1925 as one of the country's first planned communities, the city is now a spotless home for more than 175 multinational companies and a score of consulates and trade offices.
A smattering of upscale commercial galleries, theatres and restaurants all contribute to the air of affluence. But for visitors, the main draw is the picturesque appeal of its Mediterranean Revival architecture, reflected in such landmarks as the Venetian Pool and the Biltmore Hotel.
In 1973, Coral Gables became one of the first cities in Florida to adopt a Historic Preservation Ordinance. Since then, most of the district's buildings have been designated as landmarks and are protected. The current civic zeal for preserving Coral Gables' bucolic character can, in fact, border on the obsessive. A hefty list of official "dos and don'ts" applies to everything from replacing windows to how many guests can park their cars in front of a home for a dinner party without the host having to rent an off-duty police officer to supervise. Even the size of real estate "For Sale" signs is regulated.
Miracle Mile
Coral Way is the major east-west street through the Gables. The section that runs down the central business district, from SW 37th to 42nd Avenues (Douglas to Le Jeune), is known as the Miracle Mile—somewhat exaggeratedly, given that it's actually no more than half a mile long. Once a bustling shopping zone full of local boutiques, nowadays it's just another Disneyfied US neighborhood with all the requisite chains: Barnes & Noble, Starbucks, Einstein Bros Bagels et al. At least the very good Actors' Playhouse (280 Miracle Mile) maintains some semblance of the creative Gables days of old.
A number of interesting spots have also survived in the streets immediately north of Miracle Mile. One is the old John M Stabile building at 265 Aragon Avenue, now the home of Books & Books, Miami's finest independent bookstore. Across the street stands the Old Fire House & Police Station (285 Aragon Avenue, at Salzedo Street), now part of the Coral Gables Museum (305 603 8067). Across Alhambra Circle is the tiny Hotel Place St Michel (162 Alcazar Avenue), which has been an ultra-quaint local attraction for fans of bijou design since 1979.
Coral Way
Some of the Gables' most interesting residences lie on Coral Way, between Le Jeune (SW 42nd Avenue) and Granada Boulevard. The eastern end of this stretch is marked by City Hall (405 Biltmore Way, at S Le Jeune Road), a stately edifice encircled by 12 majestic columns and topped off with a three-tiered clock tower.
Heading west beneath the massive banyan trees, Coral Way intersects with three other roads at Balboa Plaza, a typical example of a Gables plaza, featuring fountains, cisterns, gates and pergolas. South-west down De Soto Boulevard is the Venetian Pool (see p55), while sticking with Coral Way brings you to one of the oldest houses in the area, Merrick House, which is usually open to visitors.
Restaurants and bars in Coral Gables
Rated as: 4/5
Price band: 1/4
Miami's best food is often found in strip malls, and this budget Peruvian caff is a case in point. The aesthetics are cheap: bright, unflattering lights, laminated menus and photographs of the food. But the home cooking is top notch. The ceviche is fresh and tangy, the lomo saltado is present and correct, and the medley of traditional Peruvian cuisine is simple and comforting (aji de gallina, boneless chicken in a creamy sauce; tripe stew in yellow mint sauce). If you can't afford the elegant Francesco's, this is a great intro to Peruvian cuisine.  
7971 Bird Road, at SW 79th Avenue
Main courses $6-$19
More info
Rated as: 3/5
Price band: 3/4
You can almost taste the power surging through this traditional, clubby steakhouse, where the excellent food and service attract an impressive clientele. Expect superlative lamb chops, steaks and prime rib, a decent Caesar salad and classic desserts like baked Alaska for two. Live jazz begins every Friday night at 7pm.
3101 Ponce de León Boulevard, at Malaga Avenue
Main courses $28–$50
More info
A prime location on Miracle Mile makes this a great destination for theatergoers, who can enjoy a meal and shopping before the show. This non-profit theater presents a full season of staged productions for adults, a children's theater series, educational programing, acting classes and a wide array of community services.
280 Miracle Mile, at Salzedo Street, Coral Gables
Tickets $35–$48
More info
More Coral Gables restaurants and bars
---
Things to do in Coral Gables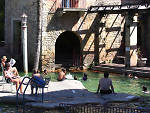 Possibly the most beautiful swimming pool in the world, even if it is jammed on hot days. It combines an impossibly idyllic setting (tropical foliage, waterfalls, Italian architectural touches) with freshwater, replenished nightly in summer months from a subterranean aquifer. Once a quarry, it was built in the 1920s as an exotic locale for swimming and entertainment; back in the day, there were gondolas and orchestras; movie stars such as Esther Williams and Johnny Weissmuller of Tarzan fame serenaded poolside dancers. These days you might catch the filming of aqua aerobics classes for television. Everyone wants a piece of the pool. Luckily for Joe Public, it's open to the masses seven days a week, but it is perhaps best enjoyed when not overrun with toddlers and boom-box blasts (avoid weekends).
2701 DeSoto Boulevard, at Toledo Street
More info
Incongruous, unlikely and bizarre, Vizcaya is also an utter delight. An Italian Renaissance-style villa and gardens set on Biscayne Bay, it was built by F Burrall Hoffman, Diego Suarez and Paul Chalfin for Chicagoan industrialist and committed Europhile James Deering from 1914 to 1916. And a wildly extravagant spot it is too. Not only architecturally: the place is crammed with European antiques and works of decorative art spanning the 16th to the 19th centuries. All the furnishings at Vizcaya are just as they were in Deering's time, including early versions of such amenities as a telephone switchboard, a central vacuum-cleaning system, elevators and fire sprinklers. The East Loggia looks out on to the bay, the exit guarded by a vast telescope. Off to the south stretch Vizcaya's idyllic gardens, with fountains, pools, greenery, a casino and a maze. Strolling here on a quiet summer's day can be magical (not surprisingly, it's a popular spot for weddings). Another bonus is the café, which offers above-average lunches and, on Sundays, tea for two ($16) from 1pm to 4pm.
3251 S Miami Avenue, at SW 32nd Road
More info
The only museum in the area with a notable collection of Egyptian, Greek and Roman antiquities, the Lowe also features the Kress Collection of Renaissance and baroque art, plus galleries of pre-Colombian, Asian, African, Native American, European and American work. The European collection includes pieces by Monet and Gauguin; the south-west Indian art collection contains textiles, baskets and other utilitarian objects; and the Art of Asia gallery has objects from China, Korea, Japan and South Asia.
University of Miami, 1301 Stanford Drive
More info
More things to do in Coral Gables
---
Cultural highlights in Coral Gables
The Coral Gables Museum lives up to its name by providing a useful overview of the district's culture and history, with a special emphasis on architecture and town planning. It's more diverting than it sounds—recent exhibitions have looked at pioneer life in Miami and the Florida land boom of the '20s, while a season dedicated to Coral Gables's sister cities around the world branched out into exhibits on Italy and Colombia. Appropriately, the museum is partly housed in the Old Fire House & Police Station, an imposing old building whose blend of Depression-era architecture and Mediterranean Revival influences speaks to the area's colorful history.
285 Aragon Avenue, at Salzedo Street
More info
More museums and galleries in Coral Gables
---
Hotels in Coral Gables
Price band: 4/4
Critics choice
A majestic monument to the Gables of the Florida boom years, the Biltmore boasts a 300ft bell tower modeled after the Giralda in Seville, as well as the largest pool in the US. It's worth checking in for the history alone. The lobby has a hand-painted vaulted ceiling, and French and Spanish furniture, along with large wooden aviaries containing songbirds. Marble floors, oriental rugs and soaring columns add to the grandeur. Upstairs, Egyptian cotton duvets and plump feather beds add comfort to the period drama. To top it off, there's a world-class golf course, spa, wine club and sumptuous Sunday brunches. The only drawback is the lonely location.
1200 Anastasia Avenue, at Granada Boulevard
Rates $209–$479 double
More info
More hotels in Coral Gables
---
---
Shopping in Coral Gables
This upscale mall is anchored by department stores Neiman Marcus and Nordstrom. Three open-air stories boast over 100 shops and boutiques, including the likes of Burberry, Gucci, Adolfo Domínguez, Jimmy Choo, Diane von Furstenberg and Agent Provocateur. Jewelery brands include Tiffany and Tourneau.
358 San Lorenzo Avenue, at Ponce de León Boulevard, Coral Gables
More info
This glass box showroom is a beacon for buyers of classic modern furniture by the likes of Le Corbusier, Arne Jacobsen and Jasper Morrison. It is practically a Design District poster child. It features a greatest hits medley of modern designers, with pieces by Ron Arad, Arne Jacobsen, Philippe Starck, Zaha Hadid et al.
2331 Ponce de León Boulevard, at Aragon Avenue, Coral Gables
More info
More stores in Coral Gables
---