Alice Neel, "Selected Works" + "Nudes of the 1930s"
A truly renegade painter put everything she had on the line.
By T.J. Carlin Wed Jun 10 2009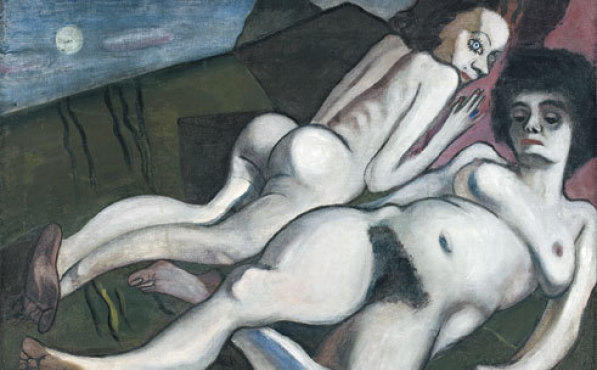 Nadya and Nona Photograph: Courtesy David Zwirner
Time Out Ratings :
<strong>Rating: </strong>5/5
In Alice Neel, a fiery and deeply moving documentary directed by the painter's grandson Andrew, on view in David Zwirner's installment of this two-part painting-and-drawing show, two scenes illuminate Neel's situation as a painter and as a woman working in a male-dominated era. In the first, Neel's hand, holding a brush, pauses before a blank canvas, then lays down the stroke delineating the exterior of her model's right arm; she retraces this mark several times. The action, from the wrist, represents a contemplated consideration of the shared reality between artist and subject. Neel makes no attempt to establish an underlying structure for the composition, preferring instead to delve directly into the business of rendering. Another part of the film shows a brief clip of a young man squatting over an expanse of canvas before lunging forward to produce an sweeping arc of paint. The artist is unidentified; the footage he appears in is as stock as his gesture, a move typical of that most self-expressive and often narcissistic of movements—Abstract Expressionism—to which many of Neel's peers belonged.
To create portraits in the AbEx heyday of the 1940s and '50s was itself a political choice, though it's unlikely that Neel, who helped to lay the foundations for feminist art, would have thought so: She simply refused to pander to popular mores, either in her personal choices or in her professional ones. Her son Hartley, who makes no bones about the unsettling effect that Neel's bohemian lifestyle had on himself and his brother, Richard, nonetheless states that "if she had been satisfied with the paragon of what women were supposed to be in her era, she would have accomplished nothing. Okay? Nothing."
Neel was born in 1900 in Merion Square, Pennsylvania; in the documentary, she expresses anxiety at abandoning her middle-class background for what seemed like a bourgeois activity, though Neel would never have an easy life by most accounts. By age 30, she had attended a women's art school in Philadelphia and borne two daughters. After the death of the first, her husband abandoned her and left with the second. A nervous breakdown and a suicide attempt followed. Neel would never remarry, though she had two more children by two different men. When, at age 41, she moved away from the art scene up to Spanish Harlem, Neel said she based her decision on wanting to paint "real people."
The works here are divided between portraits downtown and nudes uptown. Neel painted friends as well as strangers, and was known for speaking at length with her models. The nudes provide good examples of Neel's multifaceted approach to line, and her correspondingly deep understanding of the psychology of her subjects. The dark, sinuous delineations of the figures in Nadya and Nona (1933) seem to hold the women in an airless embrace beneath a pale rising moon. In Katherine Hogle (1935), slight dabs standing in for the nearly immaterial fluff of the subject's fur collar sit like breaths on the slim contour of her otherwise naked body.
Downtown, Annie Sprinkle (1982) vibrates with energy, a feather headdress competing for the viewer's attention with a set of bulging, glorious tits. There is humor and affection in the lopsided line of the sex guru's horsey face, and in the slapdash patches of ochre around her legs and stiletto heels.
Neel's works were often left unfinished; sometimes this meant an unpainted background or the addition of just a shorthand color block. The details she did include often function as a sort of Greek chorus for the composition (like Sprinkle's clit ring, or the violently striped chair in Dana Gordon from 1972). This often gives the impression Neel might have felt that, if she didn't try to register what was before her, even incompletely, it might slip through her fingers—and that would be the biggest tragedy of all. Her compassion for her subjects and her commitment to reflect the world around her, even when it cost her deeply, were acts of true courage and a boon for the rest of us.