Best subways for street-art spotting
Take a self-guided graffiti tour with a swipe of your MetroCard.
By Sarah Theeboom Mon Jan 9 2012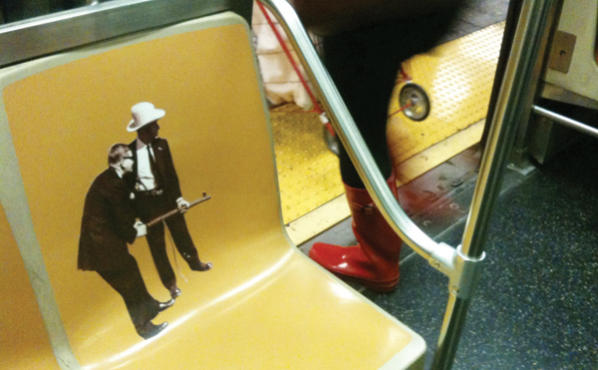 Jilly Ballistic's Two Southern Gentlemen with a Machine Gun Photograph: Courtesy Jilly Ballistic
When the MTA Arts for Transit program (mta.info/mta/aft) began commissioning public art in the subway system more than 25 years ago,  graffiti and street artists were already adorning the platforms and trains with their own brand of creative expression. Blogger Jowy Romano (subwayartblog.com) has been photographing unofficial subway art for the last three years. For him, the illegal work carries the essence and personality of the city. "Subway art is a big part of what makes New York New York," he says. "We have a healthy disregard for the rules and feel some ownership over the subways."
Because street art and graffiti are short-lived, the best place to view good pieces is online. But if you want to try hunting for them in the flesh, paste-up artist Jilly Ballistic (flickr.com/photos/jillyballistic) suggests strap-hangers pay attention to the seats and advertisements inside carriages. In addition, Romano recommends certain hot spots where fresh work can often be seen on platforms or in tunnels:
Bowery

Manhattan's infamous skid row was collecting graffiti long before street art became cool. According to Romano, the station is a hub for graffiti writers, including Jim Joe (twitter.com/jim_joe), who is active all over the Lower East Side. Jim Joe admits that this is his favorite station "'cause no one's there except bums sleeping with dirt feet." We'll assume he's there at odd hours 'cause we've certainly never seen this station empty. Subway: J, Z  to Bowery
Montrose Ave, Morgan Ave and Jefferson Ave, Brooklyn

Romano says the cut-and-paste method popularized by the Poster Boy collective (flickr.com/photos/26296445@N05) is concentrated around these consecutive L train stops. "You can see a lot of modified posters and ads in these stations because tons of artists and anarchists live in the lofts in that area." Subway: L to Montrose Ave, Morgan Ave or Jefferson St
J train between Essex St and Marcy Ave

The Brooklyn-bound J train passes through a well-graffitied tunnel just before the Williamsburg Bridge. "The art is really colorful, and there's enough light to see it by," says Romano. "It's a canvas for a lot of known graffiti writers like Bak, Vil and Shift." There's lots of art along the rest of the route, too; keep your eyes trained on the roll-down gates of shops around the Myrtle Ave stop. Subway: J to Marcy Ave
1 train between Times Sq and South Ferry

In the 1990s, Manhattan graffiti artist Revs (along with partner in crime Cost) was one of the most well-known and prolific writers in the city. While most of his work could be seen above ground, in the mid '90s he did an extensive series of diarylike writings on numbered "pages" in subway tunnels throughout Manhattan. This stretch of train line once had a continuous series of pages; keep a lookout during delays or when traveling slowly. One of the more visible ones has a yellow background and can be seen out of the left-hand windows on the northbound train as it leaves 23rd Street. Subway: 1 to South Ferry or 42nd St--Times Sq