David Herbert, "Nostalgia for Infinity"
By Time Out editors Wed Jun 3 2009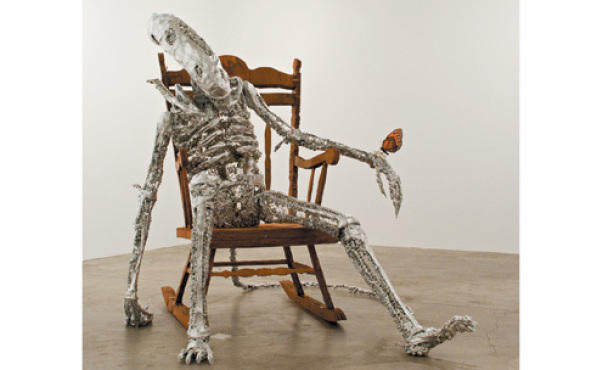 Monarch Photograph: Courtesy Postmasters
Time Out Ratings :
<strong>Rating: </strong>3/5
David Herbert definitely has prescience. His foam-core model of the Starship Enterprise,in last year's "Amerika" show at this same gallery, succinctly predicted this summer's rebirth of the movie franchise. Obviously, Herbert has more in mind than simply mapping the shifting tastes of popular culture, and in his current show, he's most successful when his idiosyncratic materials act to destabilize his subjects, trading sci-fi thrills for the queasiness of hollow myth.
Monarch depicts an outsize version of the alien from Ridley Scott's classic, seated on a rocking chair with a butterfly perched on its hand. This Disney-like detail suggests that fantasy stars retire to the set of Song of the South, rather than to Boca Raton. Unfortunately, the sculpture, made of chicken wire, spray foam and chrome paint, evokes its subject a bit too accurately, producing little friction between the material process and the image.
Conversely, the stop-motion video Sance for the Symphony succeeds by enacting a dialogue between the subject matter and its interpretation. A transcription of the first Mickey Mouse cartoon, "Steamboat Willie," Herbert's version features characters made of rough cardboard, and they jolt across the screen as though tortured into mimicking the original. Strings tug these actors along, while a soundtrack makes flatulent noises. Aside from brief moments when the film attains the light spirit of its predecessor, an oppressive will compels the sad march along to its conclusion. The tension between the cartoon and its humble re-creation educes a drama that's both sad and beautiful.—Brian Zegeer