"It's a hard-core dance and there's a pas de deux."
Neil Greenberg goes back to basics.
By Gia Kourlas Fri Oct 29 2010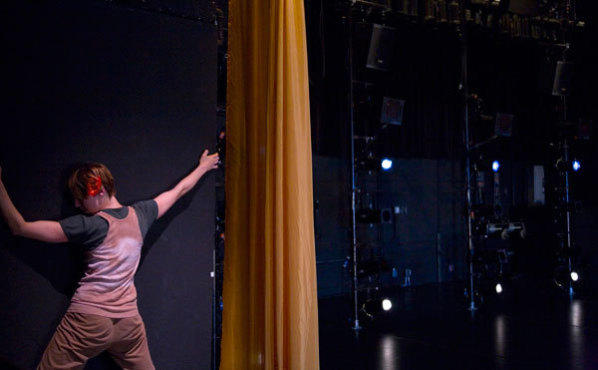 BACK IT UP Paige Martin plants herself in (like a vase).
After a New York choreographer spends three years living in Los Angeles, as Neil Greenberg recently did while on faculty at UC Riverside, culture shock—even the residual kind—can seep into a dance. As he describes it, Greenberg found himself in an art scene that he didn't quite understand; his newest work, (like a vase), is sparked, in part, by his students' way of assigning meaning to dance—or the idea of dance as a dialectic.
"I had some M.F.A. students who really approached their work—and this is perfectly valid—as if it were text," he says over coffee in Soho. "It was as if they were dancing lines like, 'Now, I like you,' 'Now, I'm mad at you' or 'Now I'm sexy.' A student described it by saying, 'We have thought bubbles coming out of our heads with everything we do.' When I pointed out to her how much acting there was in what she was doing, she didn't even realize that [dance] might not be that."
The image of a thought bubble made Greenberg consider the notion of expressiveness in his own work, which, while technically demanding and on the lean side, ebbs and flows with a certain lusciousness. "It's not as if there isn't that element in my dancing," he says. "Sometimes I think that when I'm improvising and performing, it is as if there's some form of speech or expression." He shakes his head and laughs. "But it feels so different. That's why I came up with 'like a vase.' You don't necessarily look at a vase and say, 'What's the message? What are the issues raised?'"
In (like a vase), a work for six that opens at Dance Theater Workshop on Tuesday 9, Greenberg explores the inherent human desire to assign meaning. To the choreographer, acting externally feels like speech; being aware of what's happening inside of the skin is more like a vase. He started to think of a dance existing like an object in time and place, which while "not a still shape, is still a movement object."
Greenberg, who moved back to New York last summer and is now on the faculty of Eugene Lang College the New School for Liberal Arts, employed some of his own composition exercises. "One has been giving students five simple movements, telling them to arrange them like knickknacks on a shelf," he explains. "And that's where their creativity will come—it's from how they make the arrangement, like they're interior decorators. I'm kind of doing that with this piece with this vase idea. It's specific. It's not just any vase—it's this vase and that vase, and they will each keep their qualities. The form has to be the same. And then how each dancer fills the form is different—at least that's my path in bringing idiosyncrasies out."
Still, (like a vase), which features a score by Zeena Parkins and lighting by Michael Stiller, is, in Greenberg's words, "a hard-core dance. In fact, as of right now, I'm looking at the structure of it as being like a ballet. There's a pas de deux in this thing!" He cracks up. "Unless I cut it, but I don't think I will. It's a hard-core dance and there's a pas de deux. I mean without lifts or supporting or anything like that. I mean, I'm not crazy. I haven't gone insane."
He sees the first section as a living-room scene, which leads into a series of divertissements—or a viewing of different vases. Greenberg is also incorporating repetition to show how an image changes when the context—meaning the music or the lighting—changes too. "There are a lot of straightforward things like that," he says. "I have a lot of duets."
In those duets, Greenberg has noticed that he mixes gender in a conventional way, which strikes him as odd; as a dancer with the Merce Cunningham Dance Company from 1979 to 1986, that was one of the things he fought against: "It was one of the only major ways [Cunningham] broke the contract of chance mechanisms," Greenberg says. "If everything is possible, why are there so many mixed-gender duets? It was interesting to see that it was coming up for me in this piece, and that I liked the contrasting qualities that would come out with a man and a woman. It's as if they're written with Magic Marker."
But it isn't romantic. Greenberg is more systematic in his approach to the duet form, explaining it as follows: "We're putting two vases with specific qualities next to each other. One dancer is doing this movement and another dancer is sometimes doing the same movement, but because they're different dancers doing the same movement they're different vases."
And do they touch? "Never, never, never!" Greenberg exclaims. "You've seen my work. There's not a lot of touching." He grins like a madman. "My therapist probably has a pretty good idea why that is, but I don't know. I think that some of the things I love about dancing are steps. I love the step. It feels so old-fashioned. Physical support doesn't lend itself as much to that. I think it started when I was a young dancer being asked to lift women. I hated that. When I was an adolescent in Minnesota, they were more concerned with me being able to lift the girl than my own dancing. I think that's why my first choreographic ideas were like, That's not going to be a part of it. Why should it be? It's steps. It's people dancing."
Dance by Neil Greenberg is at Dance Theater Workshop Tue 9--Nov 13.