Log in and learn
Online is the latest buzzword in continuing education, and schools are making creative use of new technology, but how do virtual classrooms compare to the real-world thing?
By Jana Martin Thu Aug 4 2011
---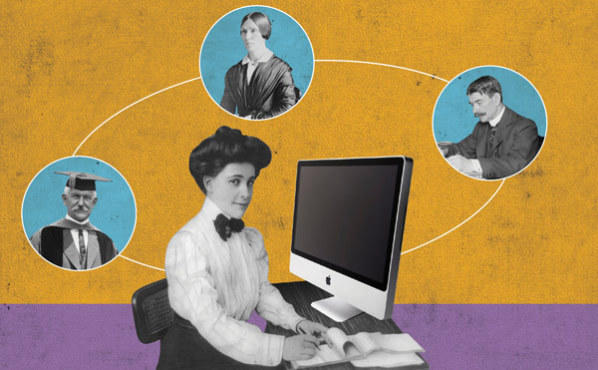 Illustration: Kathryn Brazier
No longer the exclusive domain of private institutions that specialize in "distance learning," online education is booming. YouTube is becoming "Utube," as universities like Dartmouth and Harvard post entire lectures, materials and more on their channels on youtube.com/edu. There's open courseware on the Web from the Massachusetts Institute of Technology, Stanford, Yale and countless other schools. A 2010 study conducted by the Sloan Consortium (a nonprofit organization focused on online learning) found that online-class enrollment in more than 2,500 colleges and universities nationwide rose by nearly 1 million students from the previous year. Highly regarded schools are making online learning a seamless part of their offerings, combining rigor, engagement, hard work and great faculty with elaborate learning platforms like Blackboard, customized social-media sites, and lots of multimedia bells and whistles.
The New School/Parsons the New School for Design, New York University and the Fashion Institute of Technology all offer online courses, certificates and degree programs. Columbia University is developing a breakthrough pilot program; its School of Continuing Education's business certificate program can already be completed online (ce.columbia.edu). Touro College's graduate schools of education and social work offer online and blended (virtual and on-site) courses, as do many Touro schools and campuses (touro.edu). Long-standing wordsmiths' hub Gotham Writers' Workshop (writingclasses.com) offers online courses in a wide range of genres and disciplines, from children's books and poetry to nonfiction—including article-writing classes that feature advice from New York Times reporters and editors. The International Center of Photography (icp.org) will be live-streaming its renowned "The Photographers" lecture series this fall.
For New Yorkers, online classes offer the opportunity to fit one more thing into your packed schedule, minus the late-night subway ride, and a way to take advantage of NYC's top-notch faculty and resources, but on your own time, at your own pace. In continuing education, it's also an easy way to test the waters. "You can use online classes to feel your way back into the world of education—to see if you're up to the challenge of working and maintaining a course load at the same time," says Michelle Materre, associate director of the bachelor's program at the New School.
Online study has also shed those old stigmas—it's anything but education lite. Due to its multimedia nature, it can actually be more time-consuming. Online learning platforms are designed to foster engagement: Classes may be held in real time (synchronous) or whenever (asynchronous); lectures may be delivered in audio along with text, and with an instructor's whiteboard commentary and class discussions threading live alongside. You may find yourself in virtual discussions in which the instructor calls on your virtually raised hand and passes you a virtual mike as a photo of you nods in "talk" mode. You may wind up e-mailing, tweeting and possibly becoming part of a school's own customized social network. "You can't just show up to class and sit there," says Ted Bongiovanni, director of distance learning at New York University School of Continuing and Professional Studies (NYU-SCPS).
Schools work hard to duplicate brick-and-mortar classroom rigor. "Online or on-site, a student comes to the New School expecting small classes, lots of interaction and intense involvement with the faculty, and that's what they get," says Jim O'Connor, director of the New School Online. In some cases, like the Fashion Institute of Technology, accredited institutions require that students meet the same standards and hit the same learning outcomes whether online or on-site. Educators and instructional-software designers have perfected the art of the catch (randomizing tests and creating live, unique assessments), in order to prevent cheating or plagiarism. Participation often constitutes 30 to 50 percent of your grade.
Some subjects are beautifully suited for online learning. A popular poetry-writing seminar at the New School, "From Silence to Poem," re-creates the safe and creative space of a workshop online, using audio of poets (like Sylvia Plath) reading, as well as video (such as a draft-by-draft account of Yeats's revision process). But except for hands-on classes like sewing or construction, there's an online format and the right tools to fit nearly every subject.
Of course there are downsides: Instructors accustomed to a once-weekly lecture routine may face a radical adjustment, and the technology can take some getting used to. Bongiovanni describes a discussion on Blackboard Collaborate as "a Skype session on steroids." But there are lots of IT staff on hand (for students as well), and many teachers are already used to running video, audio and PowerPoint. At FIT, Lisa Braverman, the dean of continuing and professional studies, notes that teachers are thriving in refreshingly down-to-earth roles. "The new medium breaks down the talking-head notion: The teacher becomes more like a facilitator. And if you like computers and text and writing, it's really enjoyable."
As O'Connor adds, online learning may be a bit more seamless: "It's a different kind of engagement, more like what we're all accustomed to now: communicating in a lively and personal way. It meets more of the expectations a person has in everyday life."
But for all the ways to engage online, will you still get that same level of social interaction? Is there an online way to replicate that classroom spark that furthers conversation and deepens learning? "Of the three classroom courses I took, I still have connections with people," says Bernard Murphy, who recently completed the NYU-SCPS program in financial planning. "But online, we were all just names. I even put out a chat asking people to join a Skype study group, but I got no response, so I dropped it."
Still, Murphy would readily take another class online. "It's so flexible. You can mix and match classes, set your own pace, work when your mind is fresh," he says. "For me, shifting into a new career, it was exactly what I needed."