Net effect
Rhizome is out to make new media seem less scary.
By T.J. Carlin Wed Jun 4 2008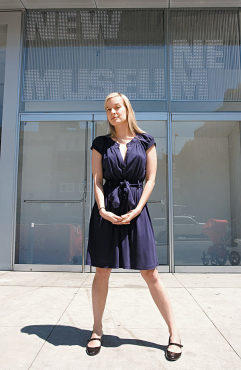 WEB READY Rhizome director Lauren Cornell takes a stand on new media. Photograph: Roxana Marroquin
When I recently asked an older artist if I could send her a Web link to a review of her work, she replied "Internet? I don't even have an e-mail address!" Many artists are averse to technology and wouldn't know packet switching from a pack mule. Lauren Cornell, adjunct curator at the New Museum of Contemporary Art and director of Rhizome, a new-media organization affiliated with the museum, is working to demystify the Internet for tech-shy artists and audiences.
In response to artists' changing practices, Rhizome has paved the way in recent years for an expansion of the definition of media art, foremost through the revision of the group's mission statement in 2005, which now states that Rhizome is "dedicated to the creation, presentation, preservation, and critique of emerging artistic practices that engage technology." Says Cornell, a former TONY contributor, "We realized that there is no exclusive monolithic community working with the Internet; it has permeated our lives in virtually every way. We also wanted to be more inclusive of artists working with the idea of the Internet, and not just the platform itself."
And it is true that an increasing amount of work in galleries and museums engages the subject of the digital world if not the technology itself. For instance, Trevor Paglen, whose work has been featured at Bellwether Gallery as well as in events organized by Rhizome, collects symbols of military culture, including patches; much of his oeuvre is about the exchange of information in government special operations, and is based in part on records available over the Web. Another artist group highlighted in the New Museum's programming is the collective Paper Rad, which produces digital animations as well as comics and performances related to digital themes.
Since its founding by Mark Tribe in 1996, Rhizome has grown into a full-fledged nonprofit with nine staff members, including curators, writers and interns. The organization offers an extensive website with an editorial section reviewing shows, along with relevant news stories, opportunities for artists to submit portfolios, an online community board and a rigorous program of exhibitions and events at the New Museum, which provides an actual physical space for new-media curatorial endeavors. Upcoming special events such as "Net Aesthetics 2.0," a panel discussion with prominent artists and critics on the state of technology in contemporary art, as well as monthly happenings through the New Silent Series, organized by Cornell, are excellent examples of the new face of Rhizome.
Cornell, 30, assumed the directorship of Rhizome in 2005, after working as a curator and a writer for several years. At the time she was uncertain whether to stay in the art world. Law school beckoned, but a friend, artist Paul Chan, convinced her of the important role that the arts play in society.
Rhizome began as a listserv for the small community then working at the intersection of art and the Web. At that time, the relationship between the two was quite different from what it is now. Cornell says the initial feeling among creatives was of "totally exploring the possibilities and limits of a new medium. Today the attitude has shifted to enthusiasm mixed with a healthy amount of skepticism." She says there is an increasing number of artists who not only utilize the latest in digital technology but also critically examine the effect of the realm of ones and zeroes on art, society and politics. "At Rhizome we try to position ourselves to reflect this new attitude and the constantly evolving relationship between the arts and new forms of media," Cornell explains.
Artist Michael Bell-Smith, who has worked with Cornell and shows at Foxy Production, posits that this trend away from tech geekiness is a good thing for art. "Before, Internet art was much more compartmentalized and was more easily ignored because it was steeped in its own technology," he explains. "Rhizome has been instrumental in contextualizing new-media work and pairing it with other things in a way that levels the playing field and makes media work much more accessible." Bell-Smith lauds Cornell for her appreciation and understanding of the art-world establishment coupled with her receptivity to new work. He adds that her ability in her work at Rhizome to draw parallels between old and new trends helps people to see the connections.
And you won't have to have majored in CompSci to appreciate any of it.
"Net Aesthetics 2.0" is at the New Museum of Contemporary Art Fri 6 at 7:30pm.
Share your thoughts