"Pieter Hugo: The Hyena and Other Men"
By Time Out editors Wed Jan 9 2008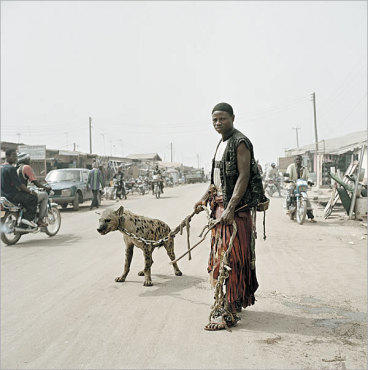 Mallam Mantari Lamal with Mainasara, Nigeria Photograph: Courtesy Yossi Milo Gallery
Time Out Ratings :
<strong>Rating: </strong>4/5
Some years ago, a friend of the South African photojournalist Pieter Hugo e-mailed him some startling pictures from Nigeria showing a group of fierce-looking men walking a pair of leashed and muzzled hyenas down a dusty street. Captivated by their theatricality, brutality and mystery, Hugo set out to find these "hyena men" and photograph them himself.
The resulting body of work gives the men (and their animals) names and a history. An extended family from northern Nigeria, the Gadawan Kura (hyena handlers) are itinerant street performers and sellers of traditional medicines and charms. The animals—which, besides hyenas, include baboons and rock pythons that the men catch and train themselves—are used to attract customers. The men revealed in these images seem casually affectionate to their charges; the animals are somewhat harder to read. Abdullahi Mohammed strikes a pose with his hyena, Mainasara, who submits to being pulled up on his hind legs. Dayaba Usman shares a bench with his monkey, Clear, holding the animal's chain loosely while Clear rests his paw confidingly on Usman's thigh.
Largely shot in urban shantytowns, the photographs are nearly monochromatic, with only touches of color from, say, a poster-covered siding. They are paired with another series showing honey collectors in the forests of Ghana, whose protective gear, made from garbage bags or leaves, renders them alien figures in a world as cool and green as the hyena men's is harsh and colorless. Although each group stands as a unique subculture, both encapsulate man's exploitative relationship with nature, as well as the tenuous, and often dangerous, existence of those who occupy the margins of the global economy.
—Anne Doran
Yossi Milo, through Sat 12