Racing the dead
A photographer turns to drawing to explore her past.
By Howard Halle Thu Sep 13 2007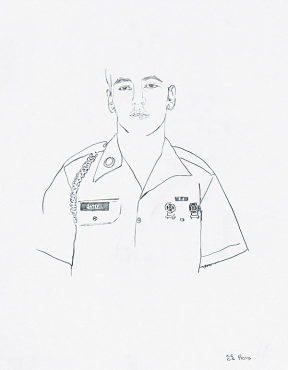 Collier Schorr, Leaving Home Photo courtesy of 303 gallery
It sounds like a Beach Boys song rewritten by Oliver Stone: Four decades ago, a 19-year-old warehouse worker from Queens managed to save enough money to buy a 1967 Corvette Sting Ray. He souped it up and took it out to race on Long Island's drag strips, where he quickly earned a reputation as an up-and-comer. Thus was born a local legend: Charlie "Astoria Chas" Snyder. A writer and photographer for Cars magazine took notice and went to do a story on the kid and his 'Vette, nicknamed Ko-Motion. As it turned out, Chas had just been drafted and would soon be shipping out for combat overseas; he planned to leave the car in the care of his buddies. Accordingly, the article was filed under the headline: while astoria chas is doing his thing in vietnam his friends are racing his l-88. By the time it hit the stands, Chas, barely four weeks into his tour of duty, had already been killed in action.
Chas's fate resonates all too strongly today; except for the details, it's probably not that different from the thousands of similar stories playing out in Iraq. Still, his differs in one respect: It's the focus of a show by Collier Schorr, opening this week at Chelsea's 303 Gallery.
Schorr, 44, is an artist whose photographic work explores the slippery realm separating artifice from documentation, reality from imagination. While her straightforward images of people and places may seem like personal photos, they're at least partially staged—artifacts, in effect, of a surrogate memory. "I'm an artist with a persona," Schorr explains. "My work is about forging an identification with a place that I'm not from." She has, for example, spent part of the past 18 years photographing in and around a small town in southern Germany. "I consider it my town," she says, "but one that only half exists between what I see and what I imagine happened there, sort of like a retelling of German history in an American voice."
In her various projects, Schorr has often focused on young men, but Astoria Chas represents a departure for her since there's a family connection: The automotive journalist of 40 years ago was Schorr's father, who took her to the track as a child. "I was there while my father was shooting Chas's car," she recalls.
Indeed the show, which includes works on paper as well as photographs, is titled "I Was There," and in contrast to the artist's earlier work, the Long Island it references—scene of Astoria Chas's fleeting glory-—is actually where Schorr grew up. Another change from previous shows is that Schorr has elected to depict Chas through drawing—a process, she admits, that was both difficult and awkward for her. "It was an effort to be someone who can't draw, but goes ahead and does it anyway," she allows. "But there was no other way."
No other way because, according to Schorr, there are limits to how far photography can straddle the gap between memory and its representation. Put simply, what the artist witnessed as a four-year-old, the camera cannot recapture. "Photography can only take you to the place that was happening at the moment the picture was taken," Schorr explains. "I couldn't photograph Chas at the track; I couldn't photograph him in Vietnam. I couldn't photograph him at all because he was dead. The only way any photographer can deal with the past in such a situation is to recreate it."
Although Schorr has relied on set-up photography in the past (including a number of images showing young men dressed up as soldiers), she ruled out that approach in Chas's case. "It seemed weird to restage something my father already did," she says, adding that drawing offered a way of arriving at an emotional truth the camera could not. "It was kind of like conducting a séance, trying to will the drawing onto paper from sources I'm trying to translate." Those sources include photos of Chas taken by his family, photos he took while in Vietnam, and her father's contact sheets of Chas and his car. Some of this material will be on view, but Schorr says the drawings in the show will mostly provide the focus in her effort to resurrect the life that ended suddenly so long ago. Noting that she and her subject share the same initials and number of letters in their names, she adds "I feel like I owe it to Chas."
"I Was There" opens Sat 15 at 303 Gallery.
Share your thoughts