"STORY/lines"
By Time Out editors Thu Feb 1 2007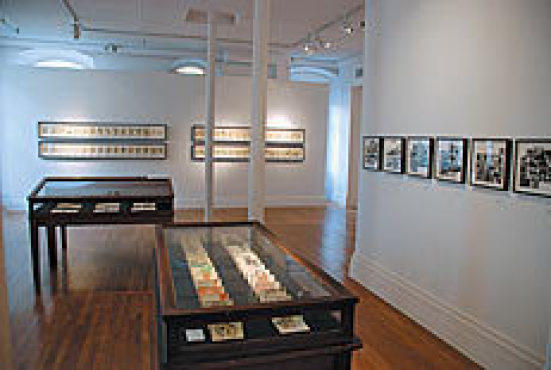 Installation view of "STORY/Lines" Photograph courtesy Newhouse Center for Contemporary Art
Time Out Ratings :
<strong>Rating: </strong>4/5
Had enough of crowded Chelsea? A trip to the Snug Harbor Cultural Center on Staten Island—formerly a home for "decrepit" sailors—may be the antidote. On a recent misty Sunday, there wasn't another soul inside its contemporary art gallery; the only company was the mournful sound of tanker horns offshore.
The four artists in "STORY/lines: Narrative in Drawing," selected by curator Frank Verpoorten, make work redolent of inner dialogues, in keeping with the hermetic feel of the place. Each shows a large amount of work in the ample space—something that's at a premium in Chelsea, where real estate is king.
Martin Wilner's series "Making History" (monthly calendar drawings started in 2002) combines disparate, often disturbing images lifted from current events—George Bush's distorted face, men in surgical masks—with snippets of ephemera like sheet music, making visual sense of a world gone chaotically awry. Jeff Gabel's drawings are executed with a light, even insouciant touch, yet they pack an emotional punch. He's made his own version, in cartoonlike text panels, of the Stefan Zweig story 24 Hours in the Life of a Woman; it's a spellbinding read, full of heartbreak and (thanks to Gabel) a dose of cynicism and poetic distance.
Also on view are Penny Juneman's scenes of silhouetted ladies cavorting around outsize vegetation (in one case, phallic mushrooms) and Dawn Clements's impressively obsessive pen-and-ink re-creations of movie interiors set aboard the Titanic. But it's the raw and honest approach to drawing shared by Gabel and Wilner that makes the ferry trip worthwhile.—Sarah Schmerler
Snug Harbor Cultural Center , through Mar 25