"The Geometry of Hope: Latin American Abstract Art from the Patricia Phelps de Cisneros Collection"
A survey of South American artists shows that all abstraction is local.
By Joshua Mack Thu Sep 27 2007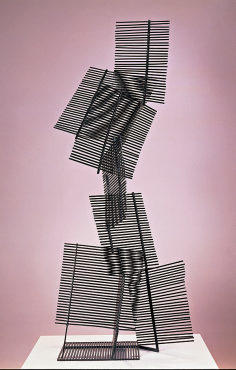 Gego, Ocho Cuadrados (Eight Squares) Photo courtesy Colección Patricia Phelps de Cisneros
Time Out Ratings :
<strong>Rating: </strong>5/5
"The Geometry of Hope" is the kind of intellectually and aesthetically exciting exhibition that opens up worlds to neophytes and challenges the assumptions of connoisseurs. Drawn from the collection of Venezuelan philanthropist Patricia Phelps de Cisneros, the show explores the astoundingly complex history of geometric abstraction in Latin America between 1930 and 1970. What emerges is a picture of a place and time that was both sophisticated and artistically innovative. In the process, the exhibition also explores new ways of understanding art that viewers may have known very little about.
The show focuses on work from six cities: Montevideo, Uruguay; Buenos Aires; São Paulo, Brazil; Rio de Janeiro; Caracas, Venezuela—and Paris. The last is a testament not only to the City of Light's influence on distant artistic communities, but also to the contribution made by artists from those same far-off places to the School of Paris. (Of special note is Venezuelan Jesús Rafael Soto, whose visually jazzy kinetic art had a huge impact in the 1950s.) Abstraction held sway at different times and for different reasons in each of these places, but the artists often worked in ignorance of what was happening in the rest of South America. In this respect, the show reveals that abstraction, a form often understood as universal, can in fact be profoundly effected by local conditions.
For instance, Montevideo was a cosmopolitan capital with a highly developed literary tradition but little visual culture until 1934, when painter Joaquín Torres García returned there after 40 years abroad. Torres García developed a visual language that fused geometric patterns—indebted to his acquaintance in Paris with De Stijl–ists Mondrian and Theo van Doesburg—and pictograms based on pre-Hispanic glyphs and contemporary sources. The resulting rhythmic compositions unite the ancient with the modern, the rational with the associative, while capturing the bustle of the artist's prosperous, liberal hometown. So pervasive was his influence that his students continued to churn out similar works (none included here) into the 1980s; a painting of Torres García's even graces the country's five-peso note.
In Buenos Aires, by contrast, members of modernist movements like the Asociación Arte Concreto-Invención and the Madi group—most of whom either belonged to or sympathized with the Argentine Communist Party—saw abstraction as an avenue for subverting an entrenched, elitist culture. Often they would leave their work unsigned, or use pseudonyms. They also attempted to rid painting of all illusionism. In Juan Mele's Coplanal (Coplanar) from 1947, seven geometric wood panels mounted above a clear Plexiglas sheet merge color and shape to define their own internal space. Mele's Irregular Frame #2, created the year before, forgoes the traditional rectilinear canvas in favor of a multisided format well in advance of Frank Stella or Elizabeth Murray. Unfortunately, the Communists didn't take too kindly to such experiments, particularly after 1947, when the Party in Argentina adopted the long-held Soviet policy of insisting that art should conform to Stalinist Social Realism.
While some of the paintings here can seem derivative, most of the work is remarkably original and visually stunning. In Rio, Lygia Clark and Hélio Oiticica were inspired by the use of art therapy in a local psychiatric hospital, and pioneered work intent on stimulating viewers' sensory perception while eliciting their participation. Clark's Bichos (the title means "critters" or "animals"), from the early 1960s, are constructed of hinged metal plates, and are meant to be handled and folded into shapes by the viewer. By the mid-'60s, Oiticica, who had made eye-popping geometric works the decade before, was building environments based on the favelas, or shantytowns, of Rio. He also designed capes from burlap, plastic bags and colored cloth for use in local samba performances. Clark and Oiticica's pieces are some of the most conceptually profound, politically engaged and subtly beautiful created anywhere during that period.
What "The Geometry of Hope" finally suggests, however, is that the differences in quality and character inherent in art are not and need not be equal. Rather, culture is born of the exchange and alteration of ideas and processes that, like evolution, are deeply affected by local conditions over time. What can seem provincial to American eyes might well be historically important elsewhere. And at a time when globalization makes work from other cultures increasingly accessible, such art can, in turn, influence our own. This show and the links it draws between context, artists and art itself should serve as a model for future surveys of its kind.
Grey Art Gallery, through Dec 8