2012 World Maker Faire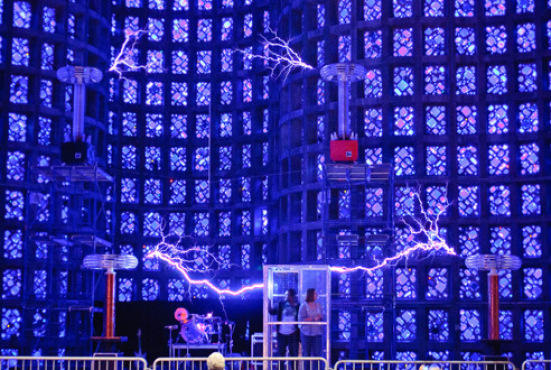 World Maker Faire
Time Out says
Thu Mar 15 2012
Each year the World Maker Faire brings together explosive Coke and Mentos fountains, a human-sized Mouse Trap game, 3-D printers and talks with techies such as David Pogue of The New York Times. But at its heart, this super science-meets-craft fair is really about the more than 500 individual makers and their inventions.We selected our favorite projects at this outpouring of creativity that you can check out during the two-day fest.
Autotelegrapher
Fubar Labs, a hacker space from New Jersey, presents this steampunk-inspired tweet machine. Watch the device send 140-character notes through the ether and print them in Morse code.
Brain Bats
Hack Manhattan developed this variation on the classic Atari game of Pong. The catch: You play it with your mind. EEG headsets monitor the players' concentration and brainwaves as a means of controlling the paddle.
Brewing as Art
Why make one keg of ale when you can make ten? Staten Island home-brewer Mark Zappasodi fuses beer-making with sculpture and welding in this project, which looks like a Victorian-era railroad engine on a wooden cart.
The Eternal Life of Books
Bibliophiles' fears will be assuaged at this station, which shows various ways of repurposing books, should Kindles and iPads permanently replace them as reading material.
Farm Hack
Sustainable agriculture advocates can brainstorm ideas for better harvesting tools and biodiesel processors that convert crops into fuel while peeping the hacked trackers and other equipment on display.
Gracie Gets Roxy
Gracie is a fuzzy monster robot who wiggles her horns to the sounds of electronic beats. Creator MJ Caselden invites attendees to manipulate a 1980s drum machine to see how Gracie adapts her moves to shifting rhythms.
Spacing Out Your Brain
Matthew Fielder, who works at NASA's Neurosciences Laboratories making gadgets for space travel, shows off his vibrotactile stimulation device, a paisley-shaped hearing aid.
Swap-O-Rama-Rama
Tote your old togs and sartorial faux pas over to this display, where designers will use their sewing and silk-screening skills to transform them into good-as-new garments.
Share your thoughts