Best library archives
The top ten spots for nosing around historical records.
By Anna Brand Tue Jul 21 2009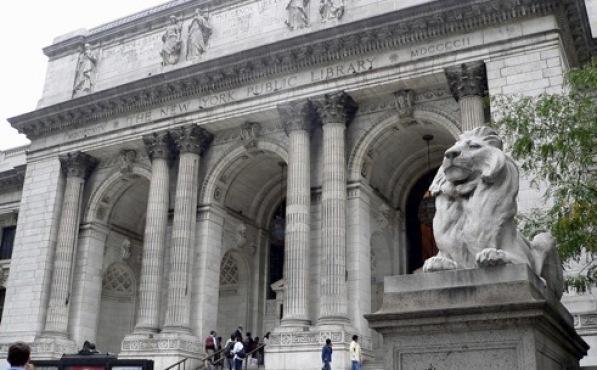 The New York Public Library
New York Historical Society
Step inside one of the country's oldest independent research libraries and bone up on New York history by perusing photographs, architectural drawings, maps and pamphlets. The exhaustive collection of manuscripts numbers 2 million, so you'll want to tap a reference library for assistance. Among the gems you'll find: Napoleon's authorization for the Louisiana Purchase and Grant's handwritten terms of surrender to Lee.
The Frick Art Reference Library
Come to the Frick for world-class sixteenth- through eighteenth-century European paintings, stay to learn more about them. The spate of books, photographs and manuscripts here primarily relate to paintings, drawings, sculpture and prints by European and American artists. As such, there's a notable selection of auction and exhibition catalogs.
The New York Public Library: The Schomburg Center for Research in Black Culture
The NYPL's Harlem outpost is devoted to black culture and the African diaspora and regularly hosts jazz concerts, films, lectures and tours. Its more than five million items are meticulously organized and span traditional masks, weaponry and bronze artificats; sheet music for ragtime, blues, jazz and gospel; photography by Bert Andrews, Walker Evans, Chester Higgins, Jr.; and video and music recordings.[]
The New York Public Library for the Performing Arts
From scholars to students, this art haven located in the Dorothy and Lewis B. Cullen Center has everything to fill your art-thirsty void from sheet music and historic readings to theater and dance. With reference materials at no cost, take advantage of their extensive collections along with complimentary seminars, performances, and exhibitions.
New York Public Library, Library of Science, Industry and Business
Enter this ultra-modern sterling facility that'll have your eyes peeled to more than just their widespread science and business resources—the largest in the nation. With 160,000 square feet of information containing 1.2 million volumes and an assembly of 40,000 books and videos, be sure to block out a large chunk of time before heading in.
Brooklyn Public Library
Nearly the entire Brooklyn population flocks to this library, built to resemble an open book that stretches out onto Eastern Parkway and Flatbush Avenue, for a collection surpassing 1.5 million books, as well as maps and photographs. With accessible free Internet, grab your laptop and cozy up with an unlimited supply of research materials and a steaming coffee from their Open Book Caf.
The Morgan Library & Museum
Take your pick of literary, music and historic manuscripts dated as early as 1890 and find a nook in this distinguished library's new reading room completed in 2006 as part of their 75,000 square feet expansion. Old master drawings and vintage printed books are among the rare collections of financier Pierpont Morgan's contributions.
New York Public Library, Humanities and Social Sciences Library
As the gem of New York's libraries, embrace your gasp as you enter this 113-year-old landmark decked with marble interior and painted ceilings. Aside from the museum-like qualities of its architecture, you'll find yourself lost among a plethora of rare books and archives in more than 1,200 languages and dialects, including the first folio edition of William Shakespeare's Comedies, Histories and Tragedies.
The New York Academy of Medicine
Deemed the second largest medical anthology in the nation, embrace an abundance of health information dated back to 1878. With the main collection comprised of over 750,000 volumes and artifacts documenting the history of medicine and science, it's no wonder all of the Library's materials would potentially stretch for over 14 miles if put next to each other.
Bard Graduate Center Research Library
Head up to the Upper West Side for a large selection decorative arts, design, garden history and landscape studies archives—a collection of about 40,000 volumes. With 250 periodical subscriptions and unlimited on-line access, there are more than enough resources to get you green with nature.
---
BACK TO MAIN PAGE
Museums: The actually cool guide
Highlights of the best venues. Plus: parties, food, gifts and Kate Moss.