Best of the fests Walls and Bridges: Transatlantic Insights
THURSDAY 27--FEBRUARY 4
By Time Out editors Mon Jan 24 2011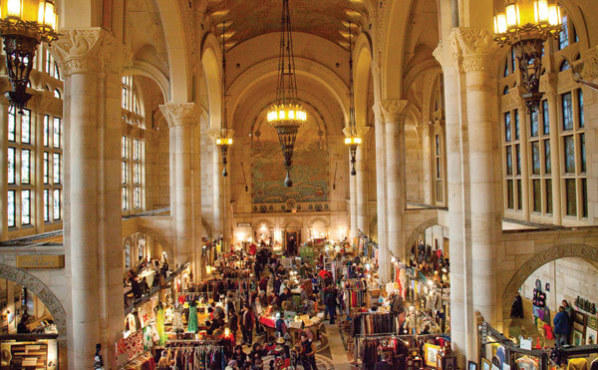 Brooklyn Flea at Skylight One Hanson Photograph: Randy Duchaine/Alamy
Stimulate your brain meat during this weeklong shindig (organized by French cultural institute Villa Gillet), which gathers French and American thinkers for discussions about such heady—and timely—topics as celebrity, privacy and happiness. Get a preview of what you'll see at three of the best events.
"And the Pursuit of Happiness"
New York Public Library Celeste Bartos Forum, Stephen A. Schwarzman Building, Fifth Ave at 42nd St. Sat 29 at 7:30pm; $15, seniors and students $10.
The title of this lecture has a double meaning, of sorts. It refers to the Declaration of Independence and the assertion that happiness is one of society's inalienable rights, but it's also the name of an illustrated column penned by artist Maira Kalman that ran in The New York Times in 2009. Kalman is among the guests for this panel (along with Daniel Handler, better known by his pen name, Lemony Snicket), which examines the origins of the euphoric emotion and its influence on art.
"Fair for Knowledge: Hair"
Brooklyn Flea at Skylight One Hanson, One Hanson Pl at Flatbush Ave, Fort Greene, Brooklyn. Sun 30 2--6pm; free.
Hair is treated as a political topic during this symposium, in which six participants (including historian Laurel Braitman and New York Times contributor John Strausbaugh) will discuss and debate the social issues surrounding your mane. Each panelist will be stationed at a separate booth, so you can discuss one topic at a time—potential subjects include hair-pulling in anxious animals and baldness as a signifier of wisdom.
"Going Public: Embodying a Persona"
Joe's Pub at the Public Theater, 425 Lafayette St between Astor Pl and E 4th St. Mon 31 at 9pm; $15.
Amanda Stern's perennially popular Happy Ending reading series devotes an entire evening to the topic of persona—what it means, and how the concept is used in everyday life. Performers include Cynthia Hopkins, who will preview selections from her climate-change-themed work This Clement World, and French writer Ccile Guilbert, who makes her third appearance at the fest.—Amy Plitt
Location, time and price vary; visit wallsandbridges.net for details.