Dates with souvenirs
Alleviate the stress of dating---and come home from these activities with a gift!
By Lavanya Sunkara Tue Feb 1 2011
---
Photograph: Virginia Rollison
Boardwalk-game prizes from the Coney Island Room
Score points by rolling strikes at Times Square's Bowlmor, or better yet, by wowing your date with your carnival-game skills in the venue's boardwalk-themed Coney Island Room. Try your luck at Skee-Ball, Put a Ring on It, Spill the Milk and Fish Pong and you could win plush animals or even a real goldfish. Even if you two don't work out, you'll still get to take home a companion, albeit a stuffed or scaly one. 222 W 44th St between Seventh and Eighth Aves (212-680-0012, bowlmor.com)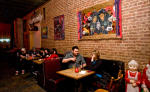 Vintage-style photos from Bushwick Country Club
A few strips of vintage-photo-booth snapshots ($3 each) will help you remember your night at this hipster hangout. You'll not only need the reminder (thanks to sweet-tea vodka slushes, $6), but you'll want it, too—no date can be dull when there's a backyard minigolf course tricked out with a PBR windmill, a drunken-hobo mannequin and a silver ice-maker--turned-robot. 618 Grand St between Leonard and Lorimer Sts, Williamsburg, Brooklyn (718-388-2114, bushwickcountryclub.com).
Ikebana arrangements from the Nippon Club
Red roses are so clich. To be a better valentine, give each other a personally made Japanese flower arrangement with seasonal blooms. Better yet, make them together at the Nippon Club's Sogetsu Ikebana Workshop, where you'll learn this minimalist art form. 145 W 57th St between Sixth and Seventh Aves (212-581-2223, nipponclub.org). Next classes Feb 12, 26 1--4pm; $30 plus $40 for materials.
Cards from Purple Petals Studio
Thanks to e-cards, e-mail and Facebook messaging, it's easy to forget the romanticism and high grammar standards of old-fashioned letters. Revive the joys of snail-mail communication by creating a few greeting cards at this weekly session, where you can craft artful missives to send to one another later. Bonus: You'll have something tangible to burn if the relationship goes sour. 59-23 Grand Ave between 58th Ave and 58th Rd, Maspeth, Queens (718-326-0423, purplepetals.net). Sat 10am--noon; $15.
T-shirts from the Run for the Wild
Start training now for the Bronx Zoo's annual 5K and you'll not only help raise money to protect penguins, but you'll also find at least one way to get sweaty together. Plus, you'll take home some good karma—and, if you raise at least $30, a cute penguin T-shirt as a souvenir. Bronx Zoo, 2300 Southern Blvd at Fordham Rd, Bronx (wcs.runforthewild.org). Apr 30 at 8:30am; registration $30, additional fund-raising encouraged.