Dates with souvenirs
Alleviate the stress of dating---and come home from these activities with a gift!
By Lavanya Sunkara Tue Feb 1 2011
Bartending skills from Astor Center
Learn how to mix a few drinks from the '80s while connecting over childhood stories (perhaps revealing your secret crush on precrazy Tom Cruise) at "Time Travel Happy Hour: Cocktails from Cocktail." When you both come back to reality, you'll be able to impress your friends with your newfound knowledge of Sex on the Beach. 399 Lafayette St at E 4th St (212-674-7501, astorcenternyc.com). Mar 11 6:30--8pm; $45.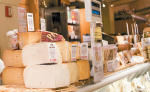 Cheese from Murray's Cheese "Cheese 101" class
At this curd shop's intro course, you'll get to taste samples of cow, sheep and goat cheeses with your main squeeze while sipping montepulciano d'abruzzo and prosecco wines. You might go gaga over Gorgonzola while your date salivates for Swiss, but at least you know you've made a cheesy memory. Purchase a few of your new favorite wheels on your way out and you're ready for a cozy get-together afterward. 254 Bleecker St between Sixth and Seventh Aves (212-243-3289, murrayscheese.com). Next classes Tue 8, Feb 14, 21, 25. 6:30--8pm; $50.
Pottery and art from DIY craft spots
Exercise teamwork, or test your patience for each other, at one of the city's craft-making spots, which are not just for kindergartners. At Make Meaning (329 Columbus Ave between 75th and 76th Sts; 212-362-0350, makemeaning.com), you can try your hands at jewelry, mosaic candles, candles or soap; at Little Shop of Crafts (711 Amsterdam Ave at 94th St; 431 E 73rd St between First and York Aves; littleshopny.com), beading is one item on the menu. And in Brooklyn, at the Painted Pot (339 Smith St between Carroll and President Sts, Carroll Gardens, Brooklyn; 8009 Third Ave between 80th and 81st Sts, Bay Ridge, Brooklyn; paintedpot.com), adults can take classes in wheel pottery and sculpture or just, you know, paint a pot. For a more adult outing (i.e., with alcohol), head to 3rd Ward (195 Morgan Ave at Stagg St, Bushwick, Brooklyn; 718-715-4961, 3rdward.com) for the party on Friday 4 (8pm--2am; $20, includes beer), where you can sketch nude and costumed models. Whether or not you end up with a masterpiece, at least you both get to take home artifacts to pass down to your kids (or hide from the next conquest).
Share your thoughts