Fall preview 2013: Ten cool new museum exhibits and events
This fall, the Queens Museum unveils a major revamp and the Brooklyn Historical Society celebrates a milestone.
By TONY staff, edited by Sarah Theeboom and Andrew Frisicano Thu Aug 22 2013
Photograph: Courtesy Grimshaw and the Queens Museum
The Queens Museum reopens, Oct
As the only remaining building from the 1939–40 World's Fair, the Queens Museum was certainly due for some TLC. But when the institution reopens in October, after a two-and-a-half-year renovation, visitors will be welcomed by an airy, open redesign that goes far beyond a mere touch-up. In addition to improvements such as a new café and a light-flooded atrium, the museum will double its size and unveil a new Grand Central Parkway–facing facade, a transparent glass entryway that reflects its community-focused approach to programming and art. Inside, new studio spaces will allow for eight resident artists to create work on site. At the reopening, visitors can see Pedro Reyes: The People's UN (pUN), a performance-based model legislature convenes in the new interior courtyard; "Peter Schumann: Black and White," a retrospective of the puppet maker's installations; "Queens International 2013," a biennial show of borough-based artists; and "New York City Building Time Lapse, 2009–2013: Photographs by Jeff Chien-Hsing Liao," which documents the museum's history and expansion. Much of the programming—such as a series of events at Corona Plaza—highlight the borough's individual neighborhoods, while other efforts are aimed toward special-needs, LGBT, recent-immigrant and teen visitors.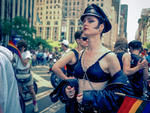 The Museum at FIT explores LGBT contributions to sartorial history, including statement-making ensembles from the 18th century through today. Pieces on display include a 1950 cocktail dress by Christian Dior and a dapper neo-Edwardian three-piece suit originally worn by dandy and old-school party boy Bunny Roger.
Download a voucher from smithsonian.com/museumday to receive two free tickets to one of 27 New York City museums and cultural centers. Participating big-name institutions include the Jewish Museum, which premieres "Chagall: Love, War and Exile" on Sept 15; the Museum of Arts and Design, which debuts "Body & Soul: Contemporary International Ceramics" on Sept 17; and the Brooklyn Museum, which opens "Behind Closed Doors: Art in the Spanish-American Home, 1492–1898" on Sept 20.
Opening Oct 5, the newest addition to AMNH's Hayden Planetarium launches you on an astronomical adventure—from Jupiter's atmosphere to the Mount Wilson Observatory in California, where Edwin Hubble first discovered other galaxies. Learn how dark matter (a.k.a. invisible matter) and dark energy (the force that accelerates the universe's expansion) shape outer space, and follow scientists on their journey to unearth cosmological mysteries. Dr. Neil deGrasse Tyson narrates.
Rose Center for Earth and Space (at the American Museum of Natural History)
Price band: 2/4
Critics choice
You may remember the BMW Guggenheim Lab, a ten-week pop-up on Houston Street that hosted free events, screenings and lectures in 2011. The Lab then traveled to Berlin and Mumbai, getting people thinking about cities, sustainability, arts and culture around the globe. This exhibit presents some of the ideas that emerged, with an accompanying program of talks and events, such as a discussion on collecting urban data (Oct 12) and a weekly movie series looking at cityscapes in film..
The Brooklyn Historical Society, a repository of Gotham history since 1863, will unveil a newly renovated interior in October. The project has been under way since spring 2012, and includes restoring the building's traditional arched entrance and creating a new first-floor and lower-level galleries, as well as installing a 200-seat event space. Among the inaugural exhibits are a celebration of the BHS's century-and-a-half legacy and "In Pursuit of Freedom," about the borough's history of abolitionism.
Price band: 1/4
Critics choice
Explore more than 140 of the French couturier's gender-bending, avant-garde pieces, some of which are arguably closer to art than attire. (Admit it: A museum seems a fitting place for Madonna's conical bra and Milla Jovovich's costume from The Fifth Element.) The show also includes photographs taken by artists including Richard Avedon, Andy Warhol and Cindy Sherman, plus Gaultier's very first design from 1971.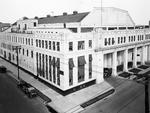 Price band: 1/4
Critics choice
MoMI mounts an exhibit about the storied studio complex it calls home, which once served as Paramount Pictures' East Coast headquarters and the U.S. Army Pictorial Center. Watch film and television clips produced at Kaufman Astoria Studios—including silent flicks starring Rudolph Valentino, Marx Brothers talkies, Sesame Street and The Cosby Show—and browse artifacts, photos and oral histories of the site.
Price band: 1/4
Critics choice
Spiegelman, who did more than anyone to legitimize the graphic novel with his Holocaust-themed classic, Maus, gets the retrospective treatment, with a survey that includes hundreds of original drawings spanning his groundbreaking career, from his late-1960s days as part of the underground comix movement to his work on some of The New Yorker's most compelling and controversial covers.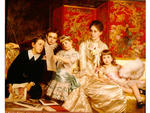 Price band: 1/4
Critics choice
The phrase more money, more problems would not have sat well with upper-class early-20th-century New Yorkers, who flaunted their wealth in the form of jewelry, furs and elaborate houses. This exhibit, the first in the newly christened Tiffany & Co. Foundation Jewelry Gallery, displays 100 glamorous costumes, portraits and household objects, including a silver-gilt place setting and an "Electric Light" dress owned by the Vanderbilt family, John D. Rockefeller's luxe toiletry set, and loads of diamond, gold and platinum bling.
---
You might also like
---
Arts & Culture events
This kooky installation by London-based artistic d...

A Gentleman's Guide to Love and Murder. Walter Ker...

Theater for the New City hosts the fifth edition o...
110

more events »
Time Out videos
---
---
@TimeOutNewYork
Subscribe to Time Out New York on Spotify for playlists and recommendations from our Music team.


Check out New York's best restaurants, hottest street style, cool apartments and more.