Is social media bad for NYC?
Could our compulsive documentation of our lives detract from the experience of really living here?
By Sharon Steel; Illustrations by William Varner Tue Nov 30 2010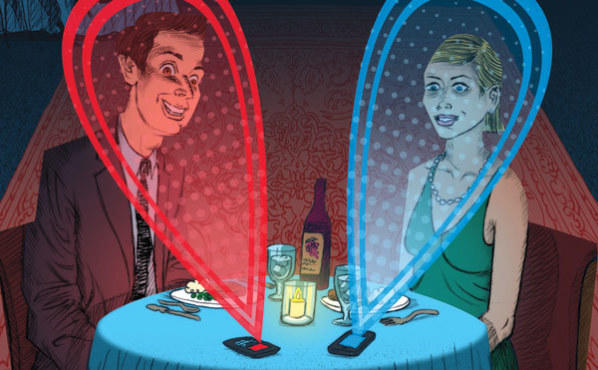 Status update: We're obsessed

"When I see others constantly tweeting, checking in and posting things to their Facebook walls, all I can think is that they're probably bored out of their minds," says Richard Blakeley, 31, editor-in-chief of Gawker.TV. "If I were living in NYC in the '50s, I'd be a modernist painter, in the '60s I would have been a documentary filmmaker, in the '70s I would have been in a punk band, in the '80s I would have made music videos," he says. "Today it's all about having a social-media presence...and that's just lame."
Indeed, you'd be hard-pressed to find a show where the first four rows aren't full of people holding up phones or cameras. "It's become part of the experience of seeing a concert now," says freelance writer Tyler Coates, 27. "Someone has to do it, right? How else am I going to find videos of the band performing live on YouTube?" One music destination that has banned audience photography (but not phone usage) during concerts is Lincoln Center. Peter Duffin, who manages the venue's social-media presence, wishes people would save it for intermission. He points to a recent concert featuring members of Icelandic band Sigur Rs at St. Paul the Apostle Church, where the audience, for the most part, managed to stay offline during the show. "When it ended, there was this hushed silence," he says. "Then there was an explosion of social media afterward. But in the moment, they were transfixed." The new dance club District 36 isn't allowing patrons to take pictures or record video inside either. "Nightlife is about experiencing the party," says Dave Kers, the venue's marketing manager. "We don't want people to hurt the party with texting or tweeting or posting Facebook pictures."
Our compulsion to document isn't limited to photos. Sarah Hepola, 36, the Culture editor of Salon, recalls the first time she and a friend went to the High Line. "The first thing she did was check in on Foursquare," Hepola says. "I was like, Really? There we were on this gorgeous day in New York, looking over the river, and that's the first thing you do?"
The food scene is a particularly attractive target for Tumblr and Facebook accounts: Amateur food pornography has become so widespread that several restaurants have cracked down on customers taking photographs of their meals. David Chang banned cameras from Momofuku back in 2008; he isn't the only one who's fed up. Heather Heuser is the co-owner and comanager of Traif, which opened in Williamsburg seven months ago. The restaurant doesn't prohibit photography at the table, but Heuser says they made a conscious decision not to take an active role in building a social-media presence. "We know who our [Foursquare] mayor is and we have a good relationship with him," she says. "But it bums me out when I see a group of four people eating, and everyone's on their phone. It's great when you take a picture of one of our bacon doughnuts, but, it's like, Come inside!"