Governors Island in New York: Public art installations
Visit Governors Island this summer to check out a plethora of sculpture, paintings and other art this season.
By Alison Zeidman Wed May 23 2012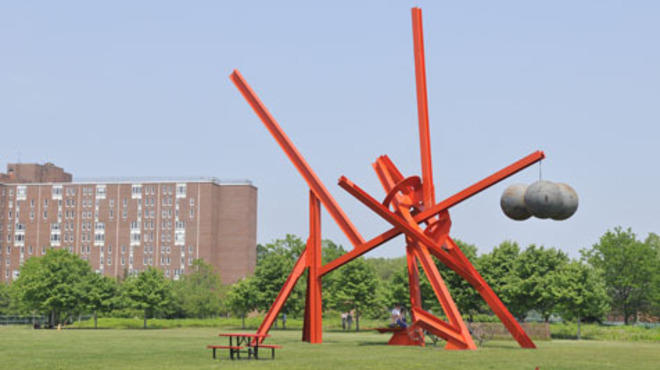 "Mark di Suvero at Governors Island: Presented by Storm King Art Center" Photograph: Donald Yip
"Mark di Suvero at Governors Island: Presented by the Storm King Art Center"
You don't have to travel upstate to see some of Storm King Art Center's offerings; the sculpture garden brings work by one of its best-known artists, sculptor Mark di Suvero, to the island. The abstract artist set up 11 of his large-scale sculptures at various points, and true to his style, the massive pieces are made of industrial materials such as salvaged steel and I beams. This exhibit is the largest outdoor presentation of di Suvero's work in NYC since the 1970s. Various locations (stormking.org). Through Sept 30; free.
Lower Manhattan Cultural Council's Art Center
The LMCC takes over one of the historic buildings on Governors Island for the summer. Take a peek at the creative process when its artists' studios are open to the public, or check out the exhibit "Transforming Function," featuring artwork that reimagines tools used in technology, design and other fields. Building 110 (lmcc.net/building110). Sat, Sun noon–5pm; through Sept 30.

"Painting Governors Island"
This exhibition of watercolors and oil paintings of Governors Island views and scenery is presented by the small group of NYC artists who have worked on the island for the past five to six years. Building 20. Through Sept 30; free.

"Tattered and Torn (On the Road to Deaccession)"
Presented by Empire Historic Arts Fund, this exhibit features items of clothing that were deemed unfit for museum collections due to their condition—but are still worthy of public viewing in less formal settings. Nolan Park. Through Sept 30; free.

"Process"
For its fifth annual summer exhibition on Governors Island, the Sculptors Guild invited more than 10 of its members to contribute pieces, with a special contribution from artist Faith Ringgold. Building 315 (sculptorsguild.org). Sat, Sun 11am–5pm; free. Through Sept 30.
---