Beer and liquor stores open late in NYC
By Bret Stetka Mon Jan 9 2012
Beer and liquor stores
---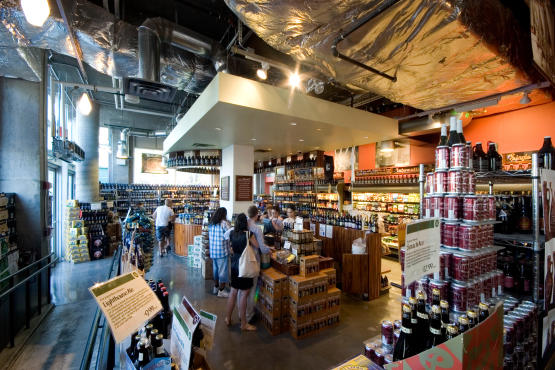 Whole Foods Bowery
The Ginger Man
You don't need to settle for a sixer of Bud from a bodega at 1am—instead, stop by this midtown craft-brew haven, which offers a beer-to-go program. Every night until close, you can mix-and-match your own six-pack (prices vary) from a dizzying selection of more than 160 bottles by both domestic and international purveyors. Or spring for a 64-ounce growler ($6) and fill it with one of 70 selections on tap ($22--$50), such as the ginger-tinged house Belgian amber ale, created by upstate's Captain Lawrence Brewing Company. 11 E 36th St between Fifth and Madison Aves (212-532-3740, gingerman-ny.com). Mon--Thu 11:30am--2am, Fri 11:30am--4am, Sat 12:30pm--4am, Sun 12:30pm--2am.
Whole Foods Bowery Beer Room
End your late-night grocery run at one of Manhattan's best-curated beer dealers. The shop has six growler lines that frequently feature local brews—including Brewery Ommegang, Kelso and Sixpoint—as well as multiple shelves devoted to the world's finest craft beers. Pick up a bottle of Mikkeller's rich and spicy Santa's Little Helper ale ($15.99), the perfect warmer for a chilly winter night. 95 E Houston St at Bowery (212-420-1320). Daily 8am--11pm.
Brooklyn Beer & Soda
At this Prospect Heights shop, you can choose from a plethora of cases and six-packs of bottles and cans, plus kegs of both respectable brews (Captain Lawrence, Goose Island) and college-kid favorites (Miller Lite, Budweiser). There's also a 16-line growler station ($11--$20) dispensing suds from locals like Greenport Harbor and Blue Point—and it's all available until midnight on weekends. 648 Washington Ave between Bergen and Dean Sts, Prospect Heights, Brooklyn (718-622-8800). Mon--Thu 10am--9pm; Fri, Sat 10am--midnight; Sun noon--6pm.
Gracie's Wines
Stock up on standard libations at this low-key boozery, which is open until midnight every day except Sunday. Affordable staples like Jim Beam ($17.99 for 750ml) and Tanqueray ($21.99 for 750ml) are available, along with a globe-spanning balance of wallet-friendly reds, whites and ross. 1577 York Ave between 83rd and 84th Sts (212-988-8288, gracieswines.com). Mon--Sat 10am--midnight, Sun noon--9pm.
Manley's Wine Shop
Didn't splurge for that second bottle before sitting down to dinner? Then stop by this small, rustic wine shop until midnight on Fridays and Saturdays for a varied, affordable collection of Old and New World tastes that will please both casual sippers and seasoned connoisseurs. Try the juicy Poppy Pinot Noir for $19.99. 35 Eighth Ave between Horatio and Jane Sts (212-242-3712, manleyswine.com). Mon--Thu 11:30am--11pm; Fri, Sat 11am--midnight; Sun 2--9pm.
Users say
ADRIATIC WINE AND LIQUOR IS OPEN EVERY NIGHT UNTIL MIDNIGHT.. 714 10TH AVENUE, CORNER OF 49TH ST.. MIDTOWN MANHATTAN