Beer tastings and events
Festivals, classes and dinners to satisfy the brew geek in you.
By Sarah Theeboom and Claire Zahm Tue Feb 15 2011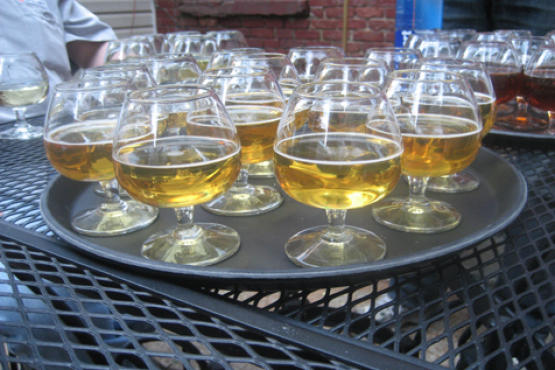 Thu 17
Pretzels, Mustard & Beer
You'll whip up four types of pretzels, along with accompanying beer-based condiments, at this cooking class with Bierkraft's Ben Granger and Nissa Pierson, and Tina DeGraff from Ger-Nis Culinary & Herb Center. Toast your creations with four brew pairings from Bierkraft. Ger-Nis Culinary & Herb Center, 540 President St between Third and Fourth Aves, suite 2E, Gowanus, Brooklyn (347-422-0337, culinaryherbcenter.ger-nis.com). 6:30--9:30pm; $50.
Sun 20
Texas State Fair
Mosey down to the Bell House for Texan beers on draft (most $6, with Texas ID $3), beats from Longhorn State DJ crew Shoot the Jukebox and a $100 cash prize for the best queso dip. E-mail info@thebellhouseny.com by Friday 18 to enter the dip competition, or taste all the entries for free and vote for the winner. FREE The Bell House, 149 7th St between Second and Third Aves, Gowanus, Brooklyn (718-643-6510, thebellhouseny.com). 3--7pm.
Tue 22
Tuesday Tastings
Each Tuesday, step into the back room at Jimmy's No. 43 to sample six beers for just $10. The themed tastings, featuring niche categories like rye-based or Scandinavian brews, are led by a beer expert and can accommodate up to 40 eager tasters. First-come, first-served. , 43 E 7th St between Second and Third Aves (212-982-3006, jimmysno43.com). Tue 7:30--9pm; $10.
Dogfish Head Brewery beer dinner
Unique offerings at this five-course pairing dinner include venison-meatball minestrone and rabbit potpie. Each is matched with a brew such as the Namaste, a Belgian-style white ale made with dried orange slices and fresh-cut lemongrass. The cost includes a Dogfish Head pint glass, but not tax and gratuity. , 505 W 23rd St between Tenth and Eleventh Aves (212-462-4300, thehalfking.com). 7pm; $45.
How to Brew Beer in Your Tiny Kitchen
You'll never again need to run to the deli for a six-pack after watching this beginner's home-brewing demo and lecture. Learn basic techniques and take home the recipe for a wintry chocolate maple porter; you can purchase brewing equipment in the store. Whole Foods Bowery Culinary Center, 95 E Houston St at Bowery, second floor (212-420-1320, wholefoodsmarket.com). 7--9pm; $35.
Feb 24
Sixpoint Brewery Night
Head to Barcade for an evening of local beer and vintage video games (Tapper, anyone?). The guys at Sixpoint Craft Ales will be pouring favorites such as Diesel Stout, alongside a range of brand-new creations. Barcade, 388 Union Ave between Ainslie and Powers Sts, Williamsburg, Brooklyn (718-302-6464, barcadebrooklyn.com). 6pm--4am. No cover.
Fermented NY Craft Beer Crawl
Explore five of Williamsburg's standout craft-beer venues (four bars, one store) on this weekly boozy tour. Learn about small-batch suds while sampling three three- to four-ounce pours at each bar. Meet at 125 Bedford Ave between North 10 and 11th Sts, Williamsburg, Brooklyn (347-618-8687, urbanoyster.com). Check website for dates; $60, before Feb 28 $55.
Feb 25
RNH Cask Fest
Sample 10 to 15 unfiltered, unpasteurized cask ales at midtown beer haven Rattle N Hum. Expect a mix of brews from the U.S., plus a few selections from England and Germany. Most pours will go for $6 to $9, and you can balance out the booze with the bar's selection of pub grub. 14 E 33rd St between Fifth and Madison Aves (212-481-1586, rattlenhumbarnyc.com). Feb 25--27 10am--4am. No cover.