Beer tastings and events
Festivals, classes and dinners to satisfy the brew geek in you.
By Sarah Theeboom and Claire Zahm Tue Feb 15 2011
---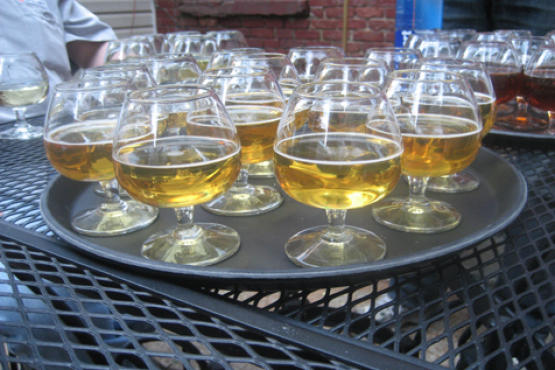 Feb 26
Brooklyn Brewery tour
Enjoy a guided visit to the Brooklyn Brewery to learn how local beers are made, then taste free samples of the eight beers on rotation, including rare Brewmaster Reserves. You can also hoist full pints ($4 each, six for $20) in the tasting room until 8pm on Saturdays and 5pm on Sundays. FREE 79 North 11th St between Berry St and Wythe Ave, Williamsburg, Brooklyn (718-486-7422, brooklynbrewery.com). Sat 1--5pm, Sun 1--4pm, on the hour.
Feb 28
Winter Supper with Sixpoint Craft Ales
Join TONY's associate Food & Drink editor Chris Schonberger for this four-course beer-pairing dinner. Try limited-edition pours like the Time Out for Porter, a collaborative beer made specially for TONY, along with a coffee bock brewed with Stumptown beans. The drinks will be matched with hearty fare. , 43 E 7th St between Second and Third Aves (dlsociety.com). 7--9pm; $55.
Mar 1
Cigar City Tap Takeover
Get familiar with Tampa's innovative Cigar City Brewery—whose catalog includes beers aged on cigar-box cedar, as well as a funky Belgian-style saison made with guava—when it takes over the taps at Rattle N Hum. Most pours will go for $6--$9. 14 E 33rd St between Fifth and Madison Aves (212-481-1586, rattlenhumbarnyc.com). 10am--2am. No cover.
Mar 5
Split Thy Brooklyn Skull XII
This high-octane festival features 20 taps and two casks pouring only brews that exceed 8 percent ABV. Sample 5.5-ounce pours of brawny ales, including a barrel-aged barley wine from Bear Republic and the rare Ellezelloise Hercule Stout. Mugs Ale House, 125 Bedford Ave at North 10th St, Williamsburg, Brooklyn (718-486-8232, mugsalehouse.com). Mar 5, 6; 11am--4am. No cover.
Mar 10
Long Trail Tap Takeover
Experience the full gamut of Long Trail Brewing Company's offerings when the brewery takes over 20 taps and two casks at Pony Bar. Snag $5 pours of the boozy Triple Bag (rarely seen outside the brewery's home state of Vermont), as well as beers from subsidiary brands Otter Creek and the organic Wolaver's. The Pony Bar, 637 Tenth Ave at 45th St (212-586-2707, theponybar.com). 6pm--4am. No cover.
Mar 12
Guinness Is Good for You
Celebrate St. Paddy's Day by tasting at least three Irish stouts and two beer-based cocktails, including the Imperial Valentine (a blend of imperial stout and cherry lambic). Beer sommelier Sam Merritt will guide you through each pour and speak about brewing traditions on the Emerald Isle. Institute of Culinary Education, 50 W 23rd St between Fifth and Sixth Aves (800-522-4610, iceculinary.com). 7--9pm; $65.
Mar 19
Get Real NY's Craft Beer and Food Festival
Find bottomless samples of 80 cask beers, all-you-can-eat nibbles from 20 food vendors (such as L'asso Pizza) and live music at this walk-around tasting. The standout lineup of British and American brews includes Green Flash Le Freak, Thornbridge Merrie and Victory Yakima Glory. The Altman Building, 135 W 18th St between Sixth and Seventh Aves (getrealny.com). Noon--3pm, 5--8pm; $65, VIP $80.