Joe Campanale
Co-owner and beverage director of Dell'anima, L'Artusi and Anfora
By Time Out editors Tue Oct 25 2011
---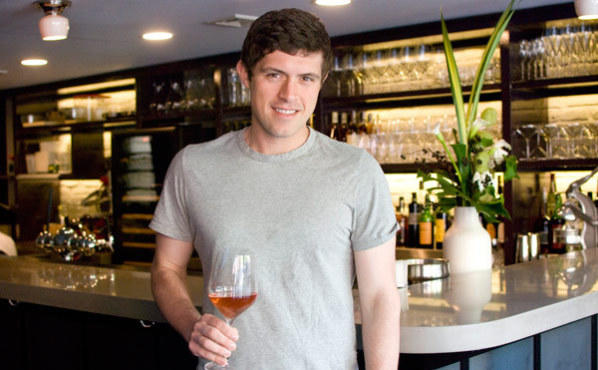 Joe Campanale Photograph: Jolie Ruben
How did you first get into wine? Do you remember any epiphanic moments that made you want to work with wine?
I was 13 the first time I tasted wine. My uncle took me to the Finger Lakes and let me have a few sips of the wines he was tasting. The only one I could stomach was an ice wine, and that's because it was so sweet. When I got to college, I found out that there were free tastings each week at my local wineshop, Union Square Wines, and I went every week. Nobody seemed to notice that I was only 18, but I learned a lot about wine from those events, and later at the International Wine Center. That's what led me down this path.
If you had to narrow it down to an elevator pitch, what would you say is your wine philosophy?
Wine should be something that makes your life better. Drink what you love, not what you think you're supposed to love. And support small farmers and growers whenever possible.
Wine-world snobbery is something every drinker has grappled with, but it feels like there's a revolution afoot in NYC: Wine bars are becoming more casual, taps are popping up all around town, and restaurants are offering thoughtful, accessible lists at reasonable price points. How do you think the face of wine—and the wine enthusiast—is changing in the city?
It's definitely getting younger and more approachable, and even the wine community—sommeliers, beverage directors, importers—is becoming younger and more friendly. There are more options than ever before, so it's more important than ever to find out what you like and seek out people and wines that share that same philosophy.
As a young person in the wine world, do you see any differences between how our generation approaches wine and how it's been viewed in the past?
I think that people are less interested in point scores, and would rather find wines that are intriguing and distinctive that come from a specific place. There's no question that wine quality has increased immeasurably in the past few decades, but it's important to seek out wines that don't taste like every other wine. Wines that have both a story and the quality to back it up. Wines that are venerable in their own right, not just because of the name on the label.
For curious drinkers who are still intimidated by a traditional wine list, what's the best way to discover new selections?
Go to a restaurant or a wineshop where you trust the sommelier or owner. Tell them what you've liked before, and ask what's similar. A good tip for remembering which wine you like is to use the camera in your phone to take a picture of any bottle you like when you try it.
What's the easiest way to spot a wine newb...
Usually people who are experienced with wine don't love the pinot grigio grape, so when people specifically request it, it can raise an eyebrow or two. That's not to say that there aren't enjoyable pinot grigios; it's just that it's become a popular entry-level wine.
...and what is the most ridiculous thing a wanna-be aficionado has done to try to impress you?
Sometimes people throw out the names of famous wines without being prepared to drink them or pay what they cost. Name recognition isn't everything. My advice is drink what you like, not what you think will impress me, or your date.
What have you seen around New York lately that's excited you as a wine drinker?
More people are focusing on wines made naturally, and from more off-the-beaten-path parts of the world like the Canary Islands, Mount Etna and the Republic of Georgia... [Also] COS wines from Sicily. They're aged in amphorae [traditional ceramic containers], and they show the more elegant, delicate, earthy side of Sicilian wines. [The focus] is on native grapes and noninterventionist winemaking [a branch of natural winemaking in which the producers avoid using modern techniques to alter the character of the wine].
Other than your own spots, what's your favorite place to drink wine in New York?
There are too many to choose from. New York has such great places for wine, but a few standouts are Vinegar Hill House, Franny's, Rouge Tomate, Trestle on Tenth and Casa Mono.