Jonny Cigar
Founder of the Noble Rot, self-appointed sommelier
By Time Out editors Tue Oct 25 2011
---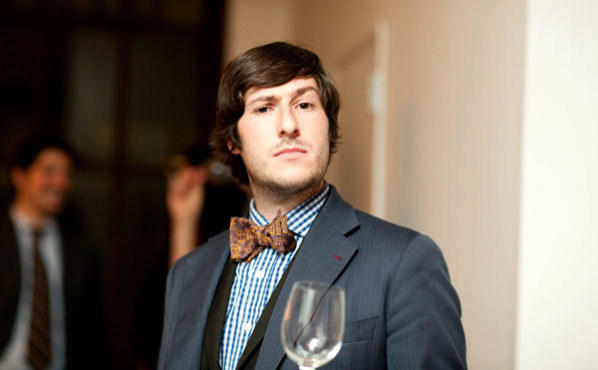 Jonny Cigar Photograph: Katie Sokoler
What is the Noble Rot?
The Noble Rot is a traveling wine salon, where people gather and discourse is lively; it is an experience that stimulates all the senses and elevates the ordinary. I like to say that libation, creativity, entertainment, humor and learning converge at a Noble Rot event. The name is the English translation of the Latin Botrytis cinerea, which is the noble "rot" that rots late-harvest white varietals and transforms their juice into the golden nectar that becomes Sauternes. [Our next event] is a Harvest Party, and folks are encouraged to join our mailing list if they want to be in the loop. [Visit thenoblerot.com.]
Do you remember any epiphanic moments—or memorable bottles—that got you hooked on wine?
In the same trip to California a few years back, three pivotal things happened that changed my perspective and launched me into wine. The first two were drinking a 1982 Mouton Rothschild and a 1982 Veuve Clicquot Ponsardin. All I knew was that the vintages had been raved about, and not much else—but the taste was so memorable, both wines so elegant, I'll never forget them. Then, a few days later I was given a copy of The Billionaire's Vinegar, by Benjamin Wallace, and found myself racing through the pages utterly fascinated by the darker side of the wine industry, counterfeits, the world of outlandish vertical and horizontal tastings, so much more—I had to be a part of it.
If you had to narrow it down to an elevator pitch, what would you say is your wine philosophy?
My philosophy mirrors Dean Martin's, who said, "You're not drunk if you can lie on the floor without holdin' on." Now that's my kind of... Okay, seriously: I always say, know what you like, but really know what you like. It's like coffee, we all know how we take our coffee, right? Just be sure not to take it too seriously. It's fermented grape juice, for cryin' out loud!
How do you think wine—and the wine enthusiast—is changing in New York?
Wine snobbery will always exist, because there are people in the industry who will always look down on the consumer. However, there are revolutionaries, forward-thinking enthusiasts who believe strongly in the enjoyment of wine and wine paired with a meal. Enjoyment is the key word. And the current interest in knowing where ingredients are sourced from will have an important impact on the future of wine and food.
For curious drinkers who are still intimidated by a traditional wine list, what's the best way to discover new selections?
Pick a price point, pick a country or region, be confident with your decision and ask the sommelier to kindly bring you a wine that will pair with the food you plan to eat. If you don't like the wine, take notes, think about why you don't like it and, for experience's sake, drink through it with gusto!
What's the easiest way to spot a wine newb...
Anyone smelling a cork is a dead giveaway. Do you smell the keys to a new car to see if you're going to like the car? Same principle: The cork and keys will tell you nothing.
...and what is the most ridiculous thing a wanna-be aficionado has done to try to impress you?
One avid aficionado had my name etched into a jeroboam, but he spelled Jonny with an h and I never spoke to him again. Hmmf!
What have you seen around New York lately that's excited you as a wine drinker?
The emergence of the urban winery—places like the Brooklyn Winery, Red Hook Winery and City Winery. Suddenly, any New Yorker can see the insides of a working winery, and during harvest they can taste fermenting wine. There's nothing like the smell of a winery at harvest—the CO2 in the air permeates the senses and makes one a touch light in the head, like you're floating through a wine paradise.
What do you think is the next step in NYC's wine evolution?
Balance and conversation. A balance between wine bars for the sake of wine bars and places like Terroir, Bar Henry and Anfora, where there's a real dedication to a certain standard of wine service and the selections. Conversational winespeak must evolve so the occasional connoisseur can talk with confidence to a master sommelier, even those [like me] that are self-appointed. As more people want to share the knowledge they acquire, that will happen.
We won't make you choose an all-time favorite wine, but what about something you've had recently that everyone needs to know about?
Bottling with Robert Foley in Angwin [California] this summer, he graciously [let me sample] his yet-to-be-released pinot noir, made with fruit from Carneros. All I can say is, once it hits the shelves, buy as much as you can. In the meantime, I would recommend trying any pinots from the Carneros region of Sonoma. The wines have brilliant spice aromas, dark fruit and a brightness that complements a lot of different cuisines.
What's your favorite place to drink wine in New York?
I love sipping wine at the Algonquin Hotel while quoting Groucho Marx to the resident cat, Matilda, who is rather impartial to the material and will never waltz with me.
How about a favorite wineshop?
MCF Rare Wine, Ltd. The owner and shopkeeper is Matt Franco. Every bottle in his intimate shop is there because he loves it, and he's definitely an "Old World" guy. Very welcoming, great conversationalist, and he knows I love California wines, but I always walk out of Matt's store with something wildly delicious.