Man-cation
Have a holiday bromance with alcohol, meat and baseball.
By Tim Lowery Tue Jun 14 2011
---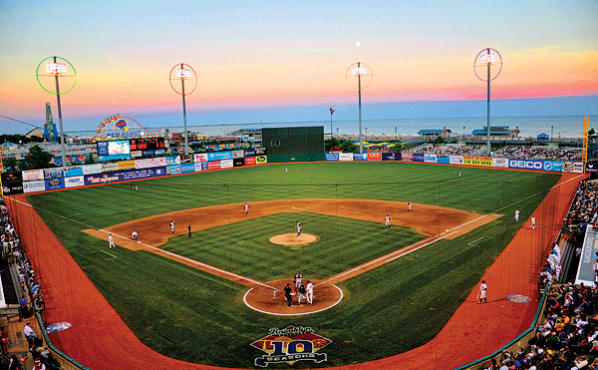 Brooklyn Cyclones
Brooklyn Cyclones Opening Day Tailgate
Relive your collegiate pregaming glory days during this bash at Ditmas Park drinkery Sycamore. Sign up ahead of time for a package deal that includes a plateful of food (burgers, hot dogs with fixings), a pint of seasonal brew from Stone Brewing Company and a ticket to the Brooklyn Cyclones' opening-day bout against the Staten Island Yankees. After taxing your liver in Sycamore's ivy-clad back garden, stumble over to the Q train with the group to catch the game at MCU Park in Coney Island (brooklyncyclones.com). Sycamore, 1118 Cortelyou Rd between Stratford and Westminster Rds, Ditmas Park, Brooklyn (347-240-5850, sycamorebrooklyn.com). Sat 18 noon--6pm ; per person $25 (includes game ticket, first beer and plate of food; additional beer $5). Advance online reservations required.
RECOMMENDED: Our most recent Staycation Guide
Get a shave
Reassert your manliness at Barbiere NYC (246 E 5th St between Cooper Sq and Second Ave; 646-649-2640, barbierenyc.com), a tiny Italian barbershop that boasts chitchat-less shaves, a cool blues soundtrack and tons of charm. The storefront's Classica ($30) starts with a free shot of Jameson (or a special summer tipple, like sangria) and ends with the barber covering your twice-razored face in a cold, lavender-oil-drenched towel.
Smoke your meat at a bar
Bring your crew (and a whole lot of meat) for a late-afternoon grill session in East River Bar's spacious back garden (97 South 6th St between Bedford Ave and Berry St, Williamsburg, Brooklyn; 718-302-0511, eastriverbar.com). Call ahead to reserve a grill—and the bigger the group is, the better: The bar charges a usage fee of $50 if you show up with fewer than 15 folks. Need to pick up carne nearby? Try butcher shop Marlow & Daughters (95 Broadway between Bedford Ave and Berry St, Williamsburg, Brooklyn; 718-388-5700, marlowanddaughters.com) for freshly made sausages (pork and chicken, $12 per pound) or chicken ($3.75 per pound).
You might also like
See more in Things to Do