Pascaline Lepeltier
Wine director at Rouge Tomate, natural-wine guru
By Time Out editors Tue Oct 25 2011
---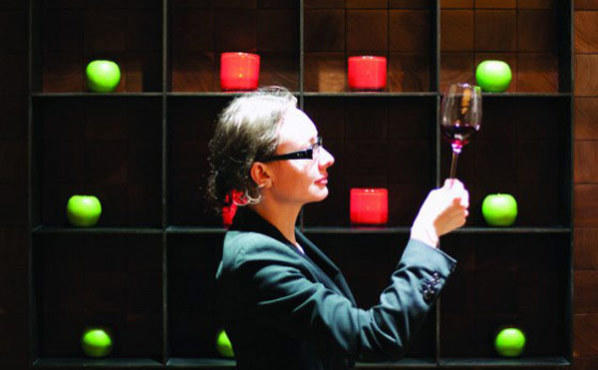 Pascaline LaPeltier
How did you first get into wine? Do you remember any epiphanic moments—or memorable bottles—that made you want to work with wine?
I was introduced to wine relatively late in life; my first striking memory was celebrating my high-school graduation with my philosophy teacher. I was 16 at the time and we savored a bottle of vintage Veuve Clicquot ros in the courtyard of my high school, speaking about philosophy. However, the wine that intrigued me to leave the university path and pursue a career in wine was a 1937 Chteau d'Yquem. I was already pretty convinced I wanted a career in wine, because I was lucky to live in Angers, Loire Valley, surrounded by amazing winemakers, most of them organic, biodynamic and natural, that opened their doors for me and definitely contributed to my passion for terroir-driven wines.
If you had to narrow it down to an elevator pitch, what would you say is your wine philosophy?
Wine is to be shared and enjoyed because it is a simple, amazing pleasure, which can take you through unique emotions, bring you to another time and can transport you to another place.
How do you think wine—and the wine enthusiast—is changing in the city?
It's great that wine is becoming less elitist and much more accessible. NYC is full of amazing, ultracompetent professional wine lovers that just want to share their passion and knowledge in a very casual, but extremely precise way. [This new crop of professionals is helping to promote] smaller production with indigenous, local and maybe unknown grape varieties. [The direction that wine is going] is in fact very similar to me to the farm-to-table movement, [which offers an alternative to] the mass-production of cheap, but flavorless and soulless, products.
Rouge Tomate is all about healthy, natural food. Is wine healthy?
Human beings have been drinking wine for thousands of years and our bodies are able to handle a moderate consumption of alcohol. So yes—but like everything else, in moderation. If we look beyond the question of alcohol, wine contains a lot a very interesting compounds like anthocyanins and other natural antioxidants. The only real problem I see today is that wine is still the only product with no mandatory labeling, so you don't actually know what you are really drinking—producers can add more than a hundred additives into a wine; not only sulfites, but many others. This is why I think it is interesting to consider wines that are made without the use of additives and are organically and biodynamically farmed and vinified.
For curious drinkers who are still intimidated by a traditional wine list, what's the best way to discover new selections?
When you go into a restaurant or wineshop where you trust your sommelier or your wine person, ask him or her to surprise you. They will know your taste and lead you to new things you will appreciate. If they are passionate and professional, you won't be disappointed!
What's the easiest way to spot a wine newb...
When you see a person checking their cell phone to find the scores of wines on winespectator.com or erobertparker.com.
...and what is the most ridiculous thing a wanna-be aficionado has done to try to impress you?
To correct me on my French pronunciation of Chenin and Chinon. I am from the Loire Valley...it did not work.
What have you seen around New York lately that's excited you as a wine drinker?
Sherry dinners and winemaker dinners are popping up everywhere, all the time, at night, in the morning, at a very good price and with a real commitment to supporting smaller estates. Plus, Nicolas Palazzi's initiative to have people discover amazing spirits [Palazzi is an importer and distributor who runs the New York Spirits Society, to teach consumers about artisanal spirits, particularly cognac]. Because when you like wine, you like beers and spirits, too.
What do you think is the next step in NYC's wine evolution?
More wine professionals doing their own wine, beer or spirits—like the bartenders with their bitters. [We're also moving toward] more local and natural wines.
We won't make you choose an all-time favorite wine, but what about something you've had recently that everyone needs to know about?
Old Muscadets...Muscadets are the most underrated wines, they are just great. Buy and keep bottles from a few good producers—like Domaine de la Louvetrie, Marc Ollivier, Guy Bossard, Luneau-Papin—then leave them to age. In 15 years...boom, you will believe you are drinking a Meursault or Pouilly -uiss, for a quarter of the price.
What's your favorite place to drink wine in New York?
Too many...I love Ten Bells, Anfora, the bar at Gramercy Tavern, late-night glasses at Bar Boulud or Tangled Vine. Unfortunately, I don't have enough time to go to Brooklyn as much as I would like and I think a lot is going on over there with Marlow & Sons, Vinegar Hill House, Natural Wine Company, etc.
How about a favorite wineshop?
I have six, in fact, depending on what I am looking for: Chambers Street, Uva, Astor Wines & Spirits, Crush, Frankly Wine and PJ Wine.