Sycamore
By TONY Tue Dec 16 2008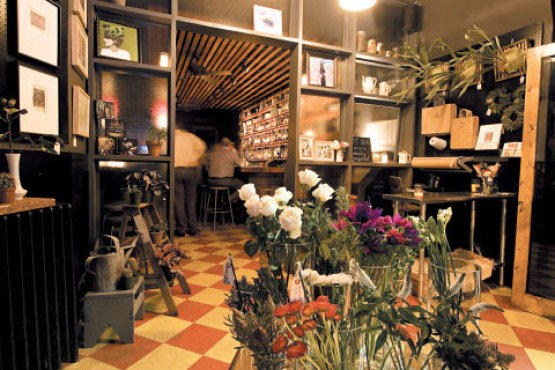 Photograph: Talia Simhi
Time Out Ratings :
<strong>Rating: </strong>4/5
Sycamore, Ditmas Park's intensely likable new watering hole, is a lot like its Brooklyn neighborhood: borderline trendy, yet holding on to a laid-back local vibe. Bolstering the quirky-cool factor is a unique mercantile marriage: The spot is a flower shop by day, and a tavern by night. The sign over the bar that reads BOUQUET AND A BEER: $10 is no joke; you can order blossoms with your brew. The team behind the prevailing whimsy—owners Gary and Allison Jonas (the Farm on Adderley), and partner Justin Israelson—have hit the right balance of urban sophistication and Cheers-brand chill. On a recent Saturday night, the long, illuminated, resin-topped bar vibrated with energy and conversation. Early weekday evenings, meanwhile, are tranquil enough for thirsty parents with a stroller in tow to nab a roomy booth in back. Sycamore's soul lies in sipping spirits, not highfalutin' mixology—a well-meaning bartender won points for asking which rye we wanted in our $9 manhattan, then lost them by shaking the traditionally-stirred drink. There are more than two dozen bourbons on offer—a broad selection that veers from Kentucky classics like Woodford Reserve and spicy Buffalo Trace to the Hudson Valley's Tuthilltown Baby Bourbon; rye and Scotch are also in plentiful supply. Beers on tap ($3--$8) range from comforting standbys like Bud and Guinness to microbrews like the fruity, hop-heavy Goose Island Honker's Ale out of Chicago. Add a cozy (though unheated) patio and a free jukebox trumpeting everything from Bill Withers to Hsker D, and you'd be hard-pressed to find a better backdrop for a round of beers—and, depending on your company, an occasional bouquet.
1118 Cortelyou Rd between Stratford and Westminster Rds, Ditmas Park, Brooklyn (347-240-5850). Subway: Q to Cortelyou Rd. Mon--Thu 5pm--2am; Fri 4pm--2am; Sat, Sun 1pm--2am. Average drink: $6.