The best bars for any forecast: Where to drink in rain or shine
The joys of spring are many, but predictable weather isn't one of them. We've picked the best spring bars that facilitate good times, no matter the temperature.
By Caitlin Griffith Tue Mar 19 2013
Take a look at the weekly forecast in the coming months, and you're likely to see anything from perfectly sunny skies to torrential downpours. The upside is that there are spring bars for every possible scenario. Hunker down with cheap cocktails on a gloomy day, then sip craft beer on an alfresco patio when the thermostat rises.
RECOMMENDED: Best spring bars in NYC

Photograph: Lizz Kuehl
The best bars for any forecast: Where to drink in rain or shine
Cienfuegos
Cold and rainy
This whimsical punch bar—sister to scene-stealers Gin Palace and Amor y Amargo—brightens dreary days with its Havana-style teal walls, regal white armchairs and impressive rum selection. It's hard to go wrong when ordering, but try the ti' punch, a classic island drink made simply with rhum agricole, cane syrup and lime ($14), or a superlative dark and stormy ($14). Fantasize about island living while sipping the Honey Badger Punch, which plays up Cuba's duality of sweet and spicy, and wait out the deluge.
Rated as: 4/5
Price band: 2/4
Critics choice
Fashionistas, plaid-clad hipsters and buttoned-up professionals all share space in this Alphabet City hangout, relaxing in an airy atmosphere amid agrarian kitsch. To pull through the final days of winter, hunker down at a communal farmtable nestled in the window nook and order one of Madam Geneva alum Jason Mendenhall's creations. We like the deceptively healthy-tasting Garden Variety Margarita ($11), a vibrant green quencher crafted with blue-agave tequila, lime and fresh-pressed ginger-kale juice. If you're lucky, an impromptu concert may break out on the piano in the corner.
Whitewashed walls, a blazing fireplace and a carefully curated music selection (upbeat jazz, classic rock and throwback pop) keep the vestiges of winter at bay. It's easy to kill time in the shabby-chic back room, reminiscent of an old-timey country house, but we recommend sticking to the front and grabbing one of the high-backed booths. The Kings County Sour ($11), which riffs on the classic whiskey sour by incorporating an egg white and a port float, pairs well with the bar's version of aebleskivers, the light and eggy offspring of pancakes and doughnut holes, served with a boozy dipping sauce.
329 Henry St, (between Atlantic Ave and Pacific St)
More info
---
Crisp and overcast
The solicitous staff at this neighborhood beer bar happily pours samples and explains the nuances of 41 beers on draft, plus one cask offering and more than 50 in bottle. Step outside your comfort zone with an Elysian Valhalla Red IPA or the current Sixpoint seasonal—aptly titled the Harbinger. The crowd might seem bro-dominated at first glance, but the jovial regulars won't hesitate to welcome any newbies into the fold. Snag a table by the floor-to-ceiling windows and you'll be perfectly positioned to soak up some vitamin D once the sun breaks through the clouds.
A neighborhood stalwart, Joe Carroll's beer nook functions both as a convenient place to grab a drink while waiting to eat at Fette Sau or St. Anselm and as a destination all on its own. The leafy backyard—filled with rickety tables and those wire chairs from your grandparents' porch—might be tempting, but on days when the forecast is dicey, you'll want to remain inside. Think of it this way: You'll have a better view of the chalkboard menus listing European beers and hard-to-find bottles (silver lining, right?). While you're there, peruse the old-school maps of New York City lining the walls and learn a thing or two about ales and lagers from the passionate barkeeps.
359 Metropolitan Ave, (at Havemeyer St)
More info
With a crowded backyard porch and a warm fire inside, this spot covers you and your drinking companions for all types of fickle vernal weather. If the sky starts rumbling, hurry to one of the booths up front. Drinks here are cheap and strong but go down easy, especially the sloe gin fizz ($8), made­—when available—with Greenpoint's own Greenhook Ginsmiths Beach Plum gin. The dark exterior and dim interior create a subdued atmosphere apt for discussing topics of the intellectual sort—like why it's still so damn frigid, despite global warming.
91 Greenpoint Ave, (between Franklin St and Manhattan Ave)
More info
---
Warm and breezy
Frequented by both hipsters and smartly dressed thirtysomethings, this laid-back watering hole belies its rough-edged grease-monkey origins. Grab one of the twelve craft beers on tap, such as the Greenport Harbor Spring Turning saison ($6) or the eminently sessionable and rare-on-the-East-Coast Full Sail IPA ($6), and retire outside to take full advantage of the high-walled fence and fire pit, which burns bright when needed. The garage-like interior gives imbibers a cozy place to persevere long after the evening air turns chilly.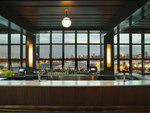 The Ides
Unobstructed sunsets over Manhattan are especially captivating when viewed with a expertly crafted cocktail on the roof of the ultrahip Wythe Hotel. As you bask in the disappearing sunlight, order a crisp qyaff from the well-curated list. The Last Word ($14), a Prohibition-era, gin-based drink, is adorned simply, with green Chartreuse and a lime wedge. 718-460-8000, wythehotel.com
Wythe Hotel, 80 Wythe Ave at North 11th St, Williamsburg, Brooklyn
This grungy dive doesn't boast a rare beer selection or a cocktail menu devised by a world-renowned mixologist. Instead, the draw is the long happy hour (Mon–Thu 6–10pm; Fri 4–8pm; Sat, Sun 4–8pm) and hidden gem of a backyard. After scooping up two-for-one drinks, leave behind the bar's strings of red Christmas lights and retire outside with the regulars, where you can recline on '70s-era deck furniture shaded by long, sweeping branches.
168 Ave B, (between 10th and 11th Sts), 10009
More info
---
Sun's a-blazin'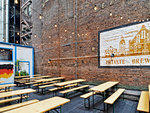 Tavern 29
The urge to escape skyscrapers, the overabundance of questionable Irish pubs: Midtown drinking can be a foreboding proposition. But on sun-drenched days, seek refuge on the third level of this brownstone bar. The rooftop beer garden, tented to shield winter-white skin from harsh rays, has communal picnic tables and a full-service bar. Cocktails tend to be lightly poured, so stick with the solid selection of draft beer options,which include local favorites (Victory, Ommegang) and farther-flung brews (Corsendonk, Bear Republic). 212-685-4422, tavern29.com
47 E 29th St between Madison Ave and Park Ave South
Price band: 1/4
Critics choice
This 100-year-old, Euro-style beer hall teems with a chatty, mixed crowd: old stalwarts who know everyone, CrossFit-exalting twentysomethings and just about everyone in between. Head outside immediately to take advantage of the spacious, gravel-lined beer garden punctuated by industrial picnic tables, a movie screen and a stage for bands. In keeping with the Continental spirit, opt for the Czech Staropramen dark lager ($6) and grub from the motherland.
29-19 24th Ave, (between 29th and 31st Sts), 11102
More info
---
You might also like
---