Theater stars' favorite bars: Hair
By Time Out editors Thu Mar 12 2009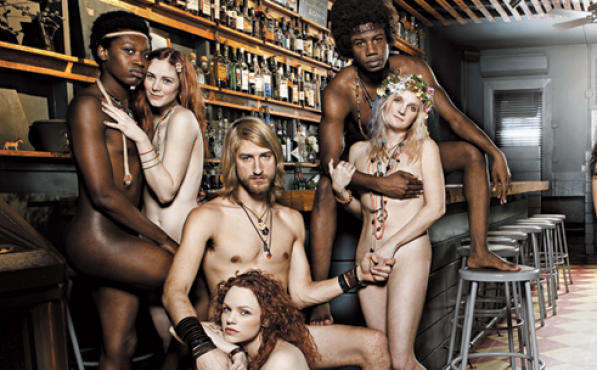 The cast of Hair at Sycamore
Get outside and commune with nature
At this bloom shop/saloon mash-up, the bourbon selection is serious, the beers are budget priced, and the ivy-covered backyard is a fair-weather wonder, whether you're a naked flower child or not. A spacious wooden patio leads down to a courtyard, where you can catch rays while catching up on conversation. 118 Cortelyou Rd between Stratford and Westminster Rds, Ditmas Park, Brooklyn (347-240-5850). Average drink: $6. hairbroadway.com
Trophy Bar
Steps from South Williamsburg's rumbling elevated train sits Trophy Bar, where the jukebox spins 45s and the smoker-friendly 700-square-foot garden is packed with picnic tables and sculptures as stylish as the patrons. Languorous springtime evenings and occasional backyard BBQs in summertime are best enjoyed with one of eight cool drafts, including Victory's crisp Prima Pils. 351 Broadway between Keap and Rodney Sts, Williamsburg, Brooklyn (347-227-8515). Average drink: $5
Chelsea Brewing Company
This Hudson River--hugging microbrew paradise serves as a sunny antidote to a winter's worth of boozing inside dark, dank bars. Grab a pint of Sunset Red Ale and head to the outdoor terrace, where you can watch golfers thwack balls on the next-door driving range as the sun sets over New Jersey. Chelsea Piers, Pier 59, W 18th St at West Side Hwy (212-336-6440). Average drink: $6.
Killmeyer's Old Bavaria Inn
Avoid the sardine-can crowds plaguing Williamsburg's Radegast and Astoria's Bohemian Hall beer gardens by making the trek to Staten Island for this 19th-century standout, bedecked with taxidermy and a sprawling garden where there's always a free seat. The preferred edibles are fat sausages, best chomped alongside a mug of summery Hacker-Pschorr Hefe Weisse. 4254 Arthur Kill Rd at Sharrotts Rd, Staten Island (718-984-1202). Average drink: $6.
Lounge 47
Contrasting with its industrial Long Island City surroundings, this retro-tinged lounge's lush bamboo-lined backyard is built for alfresco relaxation. In the pebble-strewn sanctuary, sit at an umbrella-topped table and snag the signature peachy LIC Iced Tea or one of a half dozen drafts to wash down crisp french fries and a juicy, chipotle-mayo-slicked burger. 47-10 Vernon Blvd between 47th Ave and 47th Rd, Long Island City, Queens (718-937-2044). Average drink: $6.
Salon de Ning
Perched 23 floors above maddening midtown, the rooftop terrace at the Far East--flavored Salon de Ning is a calming, breezy hideaway ideal for draft dodgers and afternoon imbibers alike—though it costs to enjoy such an oasis. Climb atop one of the plush Chinese daybeds, and waiters will cater to your consumption needs, serving pungent and pricey cocktails like the mint-packed Ning Sling. The Peninsula New York, 700 Fifth Ave at 55th St, 23rd floor (212-956-2888). Average drink: $22