Upper East Side bars near the Met rooftop art installation
The Met's interactive installation should be top of your summer to-do list. Afterward, debate the artistic merits of "Cloud City" at these Upper East Side bars.
By Rebecca Fishbein Tue Jun 5 2012
Photograph: Courtesy the Metropolitan Museum of Art
"Tomás Saraceno on the Roof: Cloud City" installation view, Iris and B. Gerald Cantor Roof Garden Café and Martini Bar at the Metropolitan Museum of Art
A perennial favorite that boasts vistas of Central Park, the Met's Cantor Roof Garden is graced with Argentine artist Tomás Saraceno's interconnected, room-size pods this year. After you've finished exploring the "Cloud City" exhibit (and it must be after, the intoxicated will be refused entry), try to re-create the bewildering, disorienting effects of Saraceno's work at these Upper East Side bars.
A specialty cocktail ($12) or glass of sparkling wine ($11) at this institution's chic outdoor bar is the perfect cap to a day of art exploration. But booze is by no means the biggest draw: The Met rooftop boasts one of the best views in the city, with panoramic sight lines to Central Park, the Upper West and East Side skylines, and beyond. The roof also hosts large-scale installations each summer—be sure to check out this season's stunning sculptural show, "Tomás Saraceno on the Roof: Cloud City," before hitting the sauce. Visitors are not permitted to walk through the exhibition's  twisty, hivelike modules while under the influence; conquer your fear of heights and debrief over cocktails afterward.
While this beer shop's sparse wooden tasting tables don't necessarily scream "brew pub," City Swiggers offers a solid rotation of craft suds for patrons to sample on draft. Try a 16-ounce glass of the smoky Greenpoint Harbor Supeh Freekeh, or get your money's worth with the 8.2 percent ABV Brooklyn Blast Hop Monster (each $7). If you're impressed with your booze (or just want to call it a night after one stop), you can pick up a six-pack or two to take home. 16-minute walk
320 E 86th St, (between First and Second Aves)
More info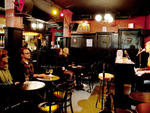 This noted neighborhood piano lounge has been around for more than three decades, and its lengthy happy hour, nightly live music and strong drinks prove why. Performers play an upbeat repertoire on the house piano, banging out Broadway classics along with more contemporary stylings (yes, sing-alongs are encouraged). And while the bar imposes a two-drink minimum after 9:30pm, the dollar-off happy hour from 4 to 8:30pm makes the decision to cut out of work early a no-brainer. 12-minute walk
235 E 84th St, (between Second and Third Aves), 10028
More info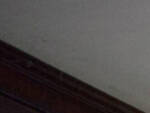 Jack Russell's Pub
If cheap brews and pub grub is your game, then this dimly lit UES sports bar is your arena. Order a pint of Brooklyn Lager ($6.50) or Rolling Rock ($4) and grab a booth in the brick-walled back room; each one is outfitted with its own flatscreen television. The bar also offers beer pong and pool, for those who want to get competitive, and the kitchen stays open late, making it way too easy to pig out on zesty bean-drenched Nachos Grande ($9.95) and chili-topped Los Angeles Dogs ($3.95–$6.95) all night long. 11-minute walk
1591 Second Ave between 82nd and 83rd Sts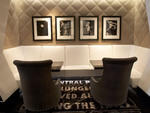 Price band: 4/4
Critics choice
Cocktails can cost upwards of $19 at this swanky Daniel Boulud spot, but the Surrey's hotel bar is so stylish, and the drinks are so delectable, the visit's well worth the high price. Slip on something fancy, take a seat at the black bar and splurge on a sultry Spring Fling ($19) or the tropical Flight 19 ($17). If you want to make a night of it, order a few canapés ($10–$21, fresh from neighboring Café Boulud) and watch the high-end clientele hobnob with one another. 10-minute walk
The Surrey, 20 E 76th St, (between Fifth and Madison Aves)
More info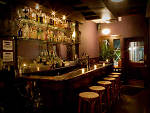 Tucked under scaffolding just off First Avenue, this cozy new Upper East Side den is the brainchild of mixology veterans Jason Littrell (Death & Company) and Marshall Altier (1534), and they've put their craft-cocktail stamp all over it. Lined with mirrors and sparkling candles, the dark interior features a marble bar and tobacco-hued leather booths in the back. A menu organized by style (juleps, fizzes, sours, etc.) gives you ample choice of both spirit and preparation: The tangy,rye-whiskey-based Camomila Cocktail ($14) is infused with orange bitters and served on ice; the desserty Coco Viejo ($14) is doused with cane syrup and grapefruit bitters, then shaken with cocoa-and-coffee-bean–infused aged rum. 20-minute walk. Travel: M79 bus.
339 E 75th St, (between First and Second Aves)
More info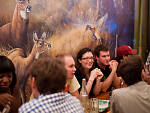 Price band: 1/4
Critics choice
This teensy East Harlem spot serves craft beer and tasty bread-and-cheese treats for a laid-back, youthful crowd. Treat yourself to one of the four daily rotating beer options—the hoppy Boat Beer ($6) and hearty Nut Brown Ale ($6) are particular favorites—and try to snag a seat at the sole communal table. Then enjoy one of the dairy-centric dishes like rosemary-sprinkled mac and cheese ($8) or the indulgent Earl's Eggo ($17) and avoid making eye contact with the taxidermy deer heads that watch you from above. 20-minute walk. Travel: 6 to 96th St or M4 bus.
1259 Park Ave, (between 97th and 98th Sts), 10029
More info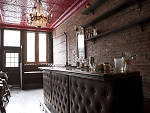 Located next door to Earl's Beer and Cheese (and owned by Earl's coproprietor Adam Clark), this new cocktail bar is its neighbor's fancier, pricier sibling. Try the Scotch-based Blood and Sand or the popular Moscow Mule (each $10); the bartenders tend to be generous with the aqua vitae. After you order, take your drinks into the back room and plop down on a plush-pillowed seat for more cushy, mellow boozing. 20-minute walk. Travel: 6 to 96th St or M3 bus.
1259 Park Ave, (between 97th and 98th Sts)
More info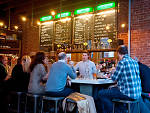 Price band: 2/4
Critics choice
Co-owned by Earl's Beer and Cheese's other half, Michael Cesari, this bustling wine bar has all the highlights of its Park Avenue counterparts: classic drinks and creative American grub (Earl's chef Corey Cova heads ABV's kitchen). But ABV is at least four times the size of Earl's or Guthrie Inn, with plenty of room for drinkers and diners alike. Postwork, young professionals fill long communal tables, the food bar and the wooden ledges that line the front windows. Join them and chow down on spring gnocchi ($11) and tartare pizza ($12) while tossing back a cocktail like the lemony Piedmont Fizz ($9). 20-minute walk. Travel: 6 to 96th St or M3 bus.
A haven for Anglophiles, food lovers and boozehounds alike, this wood-paneled Yorkville gastropub features an extensive drinks list in addition to hearty English grub. International draft beers like Fuller's London Pride ($8) and Belgium's Duvel Green ($9) are served alongside local offerings like Sixpoint Sehr Crisp Lager ($8), and wine cocktails such as the citrusy vermouth-based La Vie en Rose ($10). Bites from across the pond include steak-and-kidney pie ($18), served with sides of mash or chips, and pork-pie ploughman's ($11). Between the menu and the weekly rugby and soccer match viewings, you'll be celebrating the Queen's Jubilee in style this summer. 25-minute walk. Travel: M15 bus.
401 E 76th St, (between First and York Aves), 10021
Book online
---