Fighting for Air
By Eric Klinenberg. Metropolitan, $26.
By Time Out editors Thu Jan 4 2007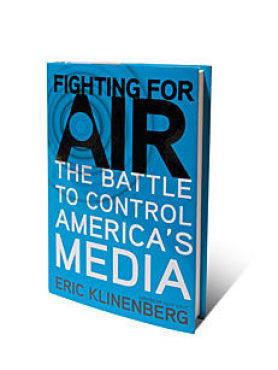 Photograph: Cinzia Reale-Castello
Time Out Ratings :
<strong>Rating: </strong>0/5
According to Eric Klinenberg, the biggest threat to our country does not come in the form of disaffected Saudi billionaires, fast food or global warming. If he is to be believed—and his exhaustively researched book suggests he should be—the clear and present danger to American democracy and culture is Big Media.
Fighting for Air cites the Telecommunications Act of 1996 as a lodestone for predatory corporations looking to exploit unprecedented media deregulation. A feeding frenzy of synergistic conglomeration came immediately on the heels of this dubious decree. Companies could now horizontally integrate various news outlets, from radio to the Internet, in an effort to increase profit margins. This unending quest for high-yield markets, in itself, wouldn't be so alarming if it didn't kill off reliable local news outlets and create an increasingly blurred line between entertainment and responsible journalism.
At this point, accounts of corporate greed aren't exactly revelatory. But Klinenberg offers such a detailed and disturbing deposition that even those numbed to conglomerate evils will take note. Admirably, the book doesn't just focus on the usual suspects, and the author doesn't let his populist leanings turn his project into yet another tired, heavy-handed polemic against rich assholes. Instead, he lets media bigwigs—Clear Channel Communications, Fox News and even NPR—indict themselves. This will be persuasive reading for anyone under the delusion that the media suffers from an omnipresent "liberal bias." And it's a must-read for those who wonder what happened to good radio, accurate reporting and autonomous public interest. — Drew Toal