Hawaiian punch
Kaui Hart Hemmings serves up a novel about fathers, daughters and infidelity in the tropics.
By Emily Bobrow Thu May 24 2007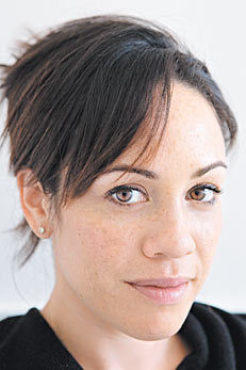 THE CUCKOLD TESTAMENT Hemming's hero tries to track down his dying wife's lover.
"I always say there's this middle-aged man living in me," says the 31-year-old Kaui Hart Hemmings by phone from her home in San Francisco. She is talking about her impressive debut novel, The Descendants, which she wrote from the perspective of Matt King, an emotionally true middle-aged cuckold, whose wife started cheating on him long before an accident leaves her comatose. "I know, it's weird," she admits. But her ease with Matt's voice is clear from the start, as in this passage where he uneasily appraises one of his two daughters: "I'm completely worried by what I see," he says. "She's excitable and strange. She's ten....She's nuts."
Hemmings, a Hawaii native, first conceived of Matt in "The Minor Wars," a particularly strong story from her promising collection House of Thieves (2005), which also featured Matt and his two daughters, 10-year-old Scottie and 17-year-old Alex. "For some reason I just wanted to go back to him," she explains. So she hit on the "perfect plot to give him a platform to make all these crazy decisions."
Crazy? Well, Matt, a wealthy Hawaiian heir to a real-estate fortune, is clearly flummoxed by his wife's near-death state and his adolescent daughters' trash-talking ("You're a dad-ass. Like a badass but older," Scottie observes). But he loves his kids, and he still loves his unfaithful, comatose wife, and so he takes his daughters on a trip to find their mother's lover. "I need to bring him home to her," he figures, to let him say good-bye. Because that's what his wife would've wanted.
So yes, crazy. But also very funny. And sad, too.
Hemmings confidently captures the voices of Matt's daughters—making them believably weird and awkwardly cool rather than annoyingly precocious. Matt is an especially appealing character, not only for his benign misanthropy ("You need friends who make you feel totally superior," he notes), but also for the way he seems to both fear and admire his children, as if he is seeing them for the first time. When Alex rubs out a cigarette on the bottom of her sandal, Matt is humbled. "A gesture like that almost assures me that she'll be fine in this world."
"I always write about fathers and daughters," Hemmings says. "I think because I never had a traditional father-daughter relationship, so I have the freedom to make it up into anything I want." Raised by her mother—the daughter of missionaries—and her step-father, the author has invoked her absent Hawaiian father in previous work, particularly in the great short story "Begin with an Outline."
But The Descendants is also a love story. It is about the clumsy but beautiful reality of a partnership, after decades of trials, errors and—most corrosive of all—monotony. Matt is poignantly ineloquent on the subject. "I love...I don't know. I love the things we love together," he tries to explain to his kids. "We love the montages in romantic comedies. We admitted this to each other one night....What fun we had."
"They were getting tired of each other," says Hemmings. "And yet that fatigue is almost more powerful. It's just this effortless intimacy." That is what excites her—the love found and maintained in unexpected places.
Hemmings, a former Stegner Fellow at Stanford, has a refreshingly unpretentious way of talking about her work. She concedes that few authors set their stories in Hawaii, and those who do often get caught up in the mystic fascinations of the place. "Growing up in Hawaii, I did not constantly think about my Hawaiianness," she says. "I just thought about how I was going to get beer and where I was going to go surfing—you know, everyday things. I just wanted to write about that."
Hawaii's stubbornly sunny weather and tranquil landscape make it a unique setting for a book about filial dysfunction. "The tropics make it difficult to mope," Matt observes. But this environmental ban on angst seems to have enabled Hemmings to whip up a surprising and affecting novel, a story about death and infidelity that manages to be a finer, lighter story about life and love.
The Descendants (Random House, $24.95) is out now.