Immigrant song
Junot Daz's genre-bending novel follows a Dominican-American family plagued by bad luck.
By David Bahr Mon Aug 13 2007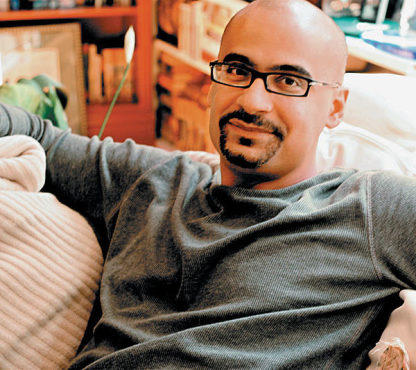 GEEK MYTHOLOGY Díaz imagines a nerd'ssearch for love. Photo: Lily Oei
As Junot Díaz sees it, some days resemble a Bruce Lee flick; others are more Dawn of the Dead or The Lord of the Rings. And then there are periods when life's like one long episode of The Invisible Man. "The world throws genres at us all the time," says Díaz, seated at a West Village café, his eyes wide. "Sometimes we're in an action movie, other times it's sci-fi, horror or a comic book."
It's such shifting perceptions of reality that Díaz wanted to capture in his long-awaited debut novel, The Brief Wondrous Life of Oscar Wao, a book that features Dominican history, a magical mongoose and one chubby nerd's singular quest for love. Frequently funny, occasionally harrowing and ultimately very moving, Oscar Wao is a work that both meets and defies the expectations set by Díaz's beloved first book, Drown, a story collection published 11 years ago.
Narrated by an intermittently cynical womanizer named Yunior (who will be familiar to readers of Drown), Oscar Wao chronicles the lives of four characters in the shadow of a Dominican curse known as Fukú Americanus: the portly and sensitive sci-fi fanatic Oscar; his tough but equally outsider sister Lola; their emotionally scarred but hard-as-nails mother, Belicia; and Belicia's physician father, the abject Abelard. Set in New Jersey and the Dominican Republic, and spanning the second half of the 20th century, the book unfolds in a variety of styles, alternating between realism and more fantastical, fragmented storytelling. "A lot of people are gonna be like, 'That motherfucker just cobbled it together,' " Díaz, 38, says of the novel. "But there's an emotional unity. I spent a tremendous amount of time fitting in the pieces. I wanted the story to feel like it was simultaneously coming apart but miraculously holding together. That has always been my image of the Caribbean."
Having moved with his family from the Dominican Republic to central New Jersey at age six, Díaz wanted to portray the fractured experience of immigration, specifically for Dominicans haunted by the ghost of their country's despotic ruler Rafael Trujillo, who left behind a legacy of corruption and genocide. Díaz calls the reign of Trujillo "the most hilarious nightmare on earth," one that continues to define the country's identity almost half a century after his assassination. That ongoing nightmare is reflected in the emotional and physical brutality of Oscar and Lola's upbringing and in the troubled coming-of-age stories in Díaz's more autobiographical Drown. "I come from a military family," he explains. "A lot of physical abuse, degradation, humiliation. Stuff that to this day I can't believe someone would do to a child."
Drown's slangy, brash tales of an unchartered childhood won Díaz a devoted following, and his fans' expectations for a first novel were often as high as the author's own. "Nobody is as hard on me as I am," he says. "Still, people wrote me letters, kids in juvie going, 'Hey, I wanted to tell you this is the best thing I ever read—dude, we know your next book's going to be crazy great.' I'd read these letters and want to fucking cry. I'm like: How do you know this? There was definitely a sense that I didn't want to disappoint these people. There were probably only 15 of them, but it still felt like an awful lot."
A slow, painstaking writer who says parts of his novel were revised some 40 or 50 times, Díaz remains more concerned with the response of fans who connect with his characters' broken lives than he is with reviewers. "I look at some of the criticism I got when Drown came out and I'm like, I don't think they really read it closely," he recalls. "Critics are under so much pressure to review a book that they don't have time to form a relationship with it. And I want people who read this book to form a relationship with it, over a number of years—like with Drown. That, to me, bro, is the reward of a book, where you've struggled and put your heart into it and it continues to engage people." He shakes his head, shrugs. "The rest—I mean who wouldn't want amazing front-page reviews everywhere! But that doesn't keep a book alive in the imaginaries and hearts."
The Brief Wondrous Life of Oscar Wao (Riverhead, $24.95) is out now. Díaz reads Thu 6.