Paradoxia
By Liz Brown Thu Oct 4 2007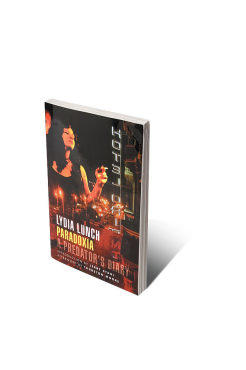 Time Out Ratings
<strong>Rating: </strong>4/5
You might call Paradoxia a confessional if Lydia Lunch felt bad about any of it: dealing black beauties in Madison Square Park, rolling tourists and "chicken-hawking teenage cholos" in L.A., wielding a coke bottle during hard-core group sex in the Chelsea Hotel and always skipping out on the rent. Remorse, though, is hardly her thing. "I'll admit EVERYTHING," she proclaims by the end of this torrent of lust, crime and degradation. "Except that I'm guilty."
Lunch was an underground phenomenon in 1980s New York, a performance artist, rocker, filmmaker and poet. She sang for Teenage Jesus and the Jerks and collaborated with Sonic Youth and filmmaker Richard Kern, among others. But Paradoxia doesn't offer up much about CBGB or the No Wave movement, favoring seedy conquests over I-was-there cultural highlights. Like a spigot, Lunch pours forth raw and dirty, unleashing contempt, humor, sexual exploits and surprising moments of self-awareness (after slipping out on a trick "who smells like liver damage" to hang with teenage glue-huffers, she is "careful not to touch the grimy rails on my way out"). Her career surfaces only briefly: working on a film in Amsterdam foregrounds the surreal terror of being drugged by a sadistic special-effects manager. Her visiting-professor stint at the San Francisco Art Institute is prelude to a spiraling, manic affair with a graffiti-artist student that ends with his institutionalization.
Paradoxia is very much a cultural document—a glimpse of the warts-and-all attitude of someone who strove to be transgressive and often succeeded. Through streaming open-mike cadences, staccato scorn and a highly attuned olfactory memory, Lunch captures the swoony, viscous downtown of yesteryear, when sex and the city meant something else entirely.
By Lydia Lunch. Akashic, $13.95 paperback.