Start that novel (or at least a short story)
By Lisa Ritchie Tue Jan 11 2011
Start that novel (or at least a short story)
---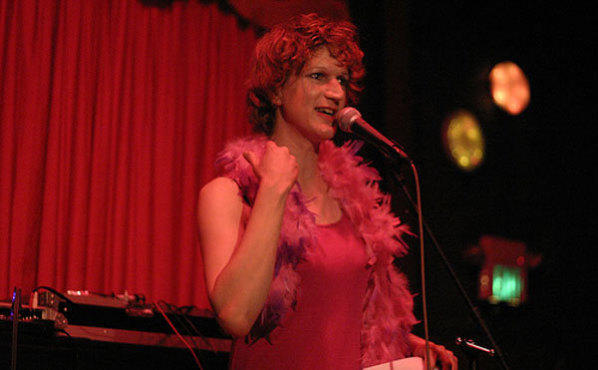 Novelist Charlie Jane Anders, organizer of Writers with Drinks, at the Make-Out Room in the Mission, San Francisco. Photograph: Quinn Norton
San Francisco has a reputation for luring literary talent from Mark Twain to Dave Eggers, yet without the competitive edge of a publishing powerhouse like NYC, the scene is easily accessible to the casual visitor. "Every night of the week you can go to a reading," explains Elizabeth Bernstein, a writer, writing coach and editor of online literary magazine The Big Ugly Review (biguglyreview.com), "but probably ten times a month there's a festive reading series. It's not just some guy in a bookstore with six people in the audience—sometimes it's 200 people in a bar."
Although you might want to make a pilgrimage to the Beat landmark City Lights bookstore in North Beach (261 Columbus Ave between Broadway and Pacific Ave; 415-362-8193, citylights.com), the Mission District is the focus of the current lit scene. On Valencia Street, bookstores and cafs (such as Ritual Coffee Roasters, 1026 Valencia St between Hill and 21st Sts; 415-641-1011, ritualcoffeeroasters.com) abound.
Get inspiration and meet local scribes at Writers with Drinks (writerswithdrinks.com) and the Monthly Rumpus (therumpus.net), both at the Make-Out Room (3225 22nd St between Bartlett and Mission Sts; 415-647-2888, makeoutroom.com) and the more formal nonprofit City Arts and Lectures (cityarts.net) series of talks with high-profile authors. Then hone your own craft and get a taste of the life by taking a class at the Grotto (sfgrotto.org), a hub for more than 30 writers housed in former dot-com offices. Elizabeth Bernstein's Short Story Bootcamp (January 23; $155) is a great introduction to fiction writing, offering an overview of the craft (structure, character, dialogue and, perhaps most important, how to get started) and in-class exercises so you can share your work.
The literary-themed Hotel Rex (562 Sutter St between Mason and Powell Sts; 800-433-4434, thehotelrex.com) is offering discounts of 15 percent for a two-night stay or 20 percent off a three-night stay through the end of March; rates start at $149.