The Adderall Diaries
By Time Out editors Tue Aug 25 2009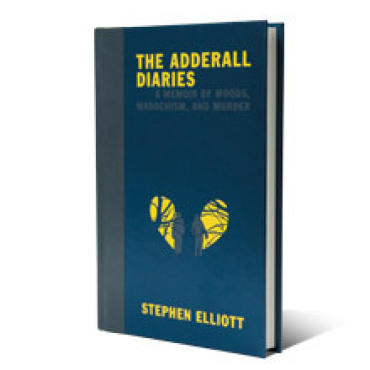 Time Out Ratings :
<strong>Rating: </strong>5/5
Stephen Elliott's superb, sprawling meta-memoir might be just what the genre needs to salvage it from the legacy of James Frey. The Adderall Diaries began as a true-crime book, modeled along the lines of Capote's In Cold Blood. Elliott, suffering from two years of writer's block, started reporting on the sensationalist murder of Nina Reiser, allegedly slain by her computer-programmer ex-husband, Hans, who had initially met the victim through a Russian matchmaking service. There's a weighty story here, and Elliott tells it well, but The Adderall Diaries is much more than a blood-soaked Dateline special. Elliott can't manage to concentrate fully on the crime and the ensuing court trial, instead introducing and pursuing new topics—many pertaining to his own present and past—that bloom into a raw, personal document.
Adderall, the amphetamine meant to help people with ADHD, is an informing conceit here. The memoir is at once skittish and deeply focused: In a single rotund paragraph, Elliott can ping-pong between webcam sex, financial anxiety, hypothetical affairs with college students and murder confessions. Everything reminds the memoirist of something else, something to do with that irrepressible "I." This book about a murder is also a book about fathers—namely Elliott's father, an abusive patriarch who continues to harass his son via bile-filled Amazon reviews. It's also a book about Paris Hilton, the author's prescription-drug abuse, S&M, San Francisco and the slippery nature of truth itself.
Elliott's style is unadorned and often achieves a quiet poetry, as when he describes Sean, another major figure in the book, who once dated Nina: "All I know about him is that on Sundays he goes to church and that he loved a woman and that woman is gone." The Adderall Diaries could have been edited into a cleaner, more focused book. But throughout, his scatterbrained approach, filtered through his melancholic voice, becomes an asset. If Elliott himself seems a little ADHD, this is one case where the sickness is also the cure.—Scott Indrisek
Elliott reads Oct 7 at the Happy Ending Series and Oct 11 at Idlewild Books.
Buy The Adderall Diaries on Amazon.com | Buy it on BN.com
By Stephen Elliott. Graywolf, $23.