The Shakespeare Wars
By Ron Rosenbaum. Random House, $35.
By Time Out editors Thu Sep 14 2006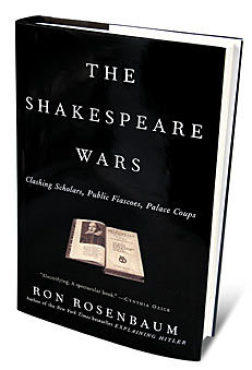 Photo: Nick Himmel
Time Out Ratings
<strong>Rating: </strong>1/5
RECOMMENDED: All Shakespeare in the Park stories
For nearly 20 years, Ron Rosenbaum has written a New York Observer column called "The Edgy Enthusiast," in which he has frequently rehearsed his passion for William Shakespeare. Now he has expanded this fascination into a full-length performance: the 600-page The Shakespeare Wars. In prose best described as punchy—in more ways than one—Rosenbaum describes his "outsider's odyssey into the innermost citadels of scholarship," from the production of A Midsummer Night's Dream that first awakened him to Shakespeare's glories, through the thickets of textual controversy that surround the Bard's texts in academic circles. Most of the book is lively and engaging, as Rosenbaum breathlessly shares his delight in exploring what he calls the "bottomlessness" of Shakespeare's plays.
Write your own review