So Percussion teams up with Dan Trueman on a virtual album
New-music quartet So Percussion looks beyond the conventional CD format for a new recording available as a download, a speaker driver or a used LP
By Christian Carey Mon Jul 8 2013
Time Out Ratings :
<strong>Rating: </strong>4/5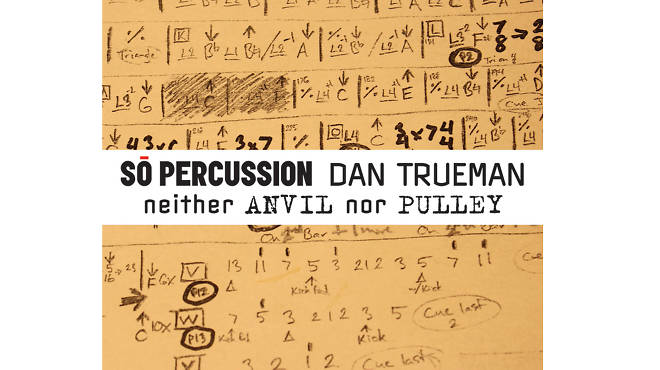 So Percussion Dan Trueman neither Anvil nor Pulley
Electroacoustic composer, Princeton University professor, instrument maker and Hardanger fiddle player Dan Trueman embraces the tensions between analog and digital cultures, and nowhere more so than in neither Anvil nor Pulley, featured on the latest recording by So Percussion. Cast in five "acts" for laptop/percussion quartet and turntable, the piece doesn't merely explore conflicts of man versus machine, but instead blurs the edges between them.
Indeed, Trueman is the man in the machine: His fiddle playing is heard as a disembodied voice from the turntable, amid the vinyl's crackling. It's electronically morphed as well, most overtly in "Feedback (in Which a Famous Bach Prelude becomes Ill-Tempered)," which distresses the same C major Prelude reimagined by Gounod for his Ave Maria setting.
So Percussion has frequently collaborated with Trueman, who said that he composes "with" the group rather than "for" it. The quartet members gamely do battle with drum machines; attach speaker drivers to bass drums and play with the resulting feedback; and manipulate synthetic string timbres with golf video-game controllers, complete with tethers. And on top of all that, they play more conventionally written sections for percussion with aplomb. It's this shared commitment to bringing seemingly disparate elements together that makes Trueman and So a winning association. And while neither Anvil nor Pulley is a digital release, you can order it with the artifact of your choice: the aforementioned speaker drivers and golf tethers, or a repurposed (used) LP.—Christian Carey
So Percussion performs at the Michael Schimmel Center for the Performing Arts at Pace University Sat 13
Follow Christian Carey on Twitter: @CBCarey
Buy neither Anvil nor Pulley on iTunes
See more in Opera and Classical Music