After-dark inquiry: Dirty Martini
The beautiful and bouncy burlesque babe is a star in France---and right here in NYC.
By Interviewed by Bruce Tantum Tue Dec 13 2011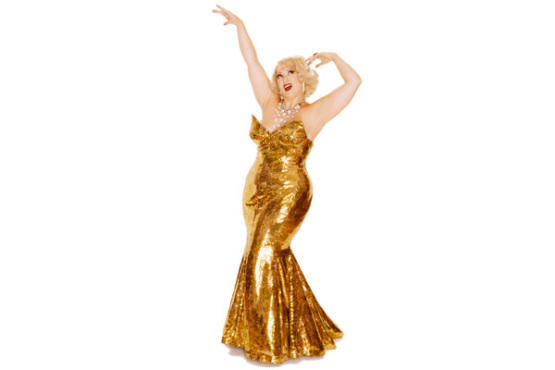 Dirty Martini Photograph: Jeffrey Gardner
I've seen you perform many times over the years, and one thing always stands out for me: You always seem to bring a subtle sense of humor and fun to the proceedings, even when your act is at its most classic.
I've always thought that when people first get involved in burlesque, they want to be funny because they're scared of their sexuality. The first response is to go to the slip-on-the-banana-peel, because the sex part is too scary for some people. When I first got into burlesque, I wanted it to be all about sexy; it was my mission to have this image of retro glamour beauty. But, you know, I have a sense of humor about it, and I think the comedy is pretty subtle. I don't really go overboard with it. I don't go overboard with the fact that I'm a plus-sized woman, either—the beauty of that is obvious in the performance, and it doesn't need explaining. We know what I'm up there for, and we know it's not the same reason a stripper might be on a pole. That's why the comedy is so subtle.
You certainly look like you're having a good time when you're onstage.
And I am. I'm always having a good time!
You're about to visit Switzerland to perform at a Susanne Bartsch party. That confirms my vision of the upper echelon of the burlesque world, of which you are a member: It's a world of jet-setting glamour.
Oh yeah, definitely. [Laughs] Since we live in the same neighborhood, you know just how glamorous my lifestyle is, and I'm sure your life is just as glamorous as mine is!
Of course. But still, you do get to travel a bit.
I'm super lucky. There's no other way to describe how I've gotten where I am. Sure, there's a lot of hard work involved—everybody in this scene works their ass off—but not many of us get to go to the kind of places that I've been able to go to. Julie Atlas Muz and myself...we're in the film Tourne, directed by Mathieu Amalric, and earlier this year we got to walk the red carpet in Cannes! And we're playing ourselves in the film, so it's not only our names up there, it's our creative property in the film, too. That's in the credits—just so it's clear that Mathieu didn't have a choreographer come in or anything. It's our work up there. And because of Tourne, we now have access to a world outside the U.S. I have a huge fan base in America, which is awesome. But now we've been propelled to this kind of big, international touring schedule. Because of the success of that film in France, we were able, for instance, to pack 1,000-seat venues for three nights in the tiniest French towns you've ever seen. We could never do that in the States! A lot of the credit has to go to our producer over there, Kitty Hartl—she organized this kind of "superstars of American burlesque" tour. The way she can wheel and deal and get us to such a high level over there is amazing.
I'm guessing that the French are more comfortable with burlesque than many Americans might be.
France definitely has a theatrical tradition that they're not afraid of. There's nothing about that tradition that they're trying to hide. The way that burlesque is viewed in France—largely due to Kitty—is that it's a very valid form of self-expression, art and political speech.
I know that you come from an artistic family. Did that somehow lead you to burlesque? I mean, you weren't just a drunk girl at some burlesque show at a bar, going "I wanna do that!"
Well, I was that, too! But there was a little more thought to it than just that. I went to SUNY-Purchase and basically graduated with a burlesque degree—at least I would have, if there was such a thing. My actual degree says choreography and performing arts. I was experimenting with ideas about burlesque—my senior project was basically a very beautiful burlesque piece, though I didn't really know to call it that. It wasn't until I moved to New York in '93, and started going to drag clubs and renting those old burlesque reels at Kim's Video in the cult section. I was like, "Who are these people? How come I didn't know about this?" As a woman, walking into the Pyramid Club and being incredibly inspired by all these performers...that was very exciting. I always talk about Chrysis [the late transgender artist International Chrysis] as being the inspiration behind new burlesque in New York City.
I've always thought that the Pyramid and its performers don't get enough credit. That place was inspirational in so many ways, and on so many levels.
The Pyramid, Boy Bar, Wigstock, Lady Bunny...places and people like that have really played a huge role in our city's story.
It wasn't so long after that that you started performing in the city. What was the burlesque scene like back then?
Well, no one knew what anyone else was doing, so I don't even know if you could really call it a scene. I personally studied those old burlesque reels and put an act together for Tex and Trixie's Vaudeville Show, a sort of lesbian cabaret at WOW. I kind of had all the stuff together from another theater piece I was doing at the time—I had convinced a lot of people to make fans and do a group fan-dance thing. I was so into watching those movies, those Irving Klaw things and all that stuff.
A lot of your performances seem to be very inspired by the kind of burlesque that was on those old tapes.
It comes exactly from that. It actually comes exactly from Lili St. Cyr. And then, later, when I saw something with Jennie Lee, I was like, "Am I reincarnated?" It's so weird—burlesque is dance-based, and I went through a whole dance curriculum, yet I had never heard of those people. All through school no one mentioned variety arts, no one mentioned the Palace Theatre...no one mentioned vaudeville! It still doesn't make sense to me that I could get through an entire higher education's worth of theatrical history classes and not hear about that.
Why do you think that academia ignores it?
Because it's tawdry. And it also was looked upon as popular entertainment. I think that nowadays colleges do have courses on burlesque and variety entertainment, or at least touch on it. And that's because of us—we brought it back. So I can happily retire now! But there's still plenty to do. I'd like to see some burlesque clubs open up, see it mix with drag a little bit more...all kinds of things.
It actually seems like burlesque in New York City is as big as it's ever been in modern history. There are so many people involved with it, whereas before you could count the major players on your fingers.
Or as the World Famous *BOB* said, you could fit 'em all in a taxicab. And that's only four people, unless you bribe the guy and can do five.
And now there's so many, I wonder if there are any cool burlesque names left.
Believe me, names are hotly contested in the burlesque world.
Dirty Martini performs at on Dec 17.