Arabian nights
Habibi is changing the image of the Middle East in America-one queer soiree at a time.
By Les Simpson Thu Sep 22 2005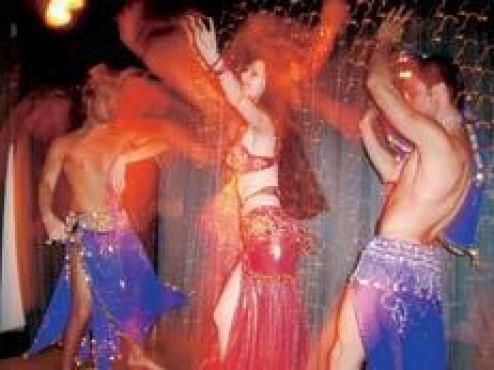 WIGGLE ROOM Habibi fans get their groove on.
Being gay is hard enough. Being a gay Arab person in our post--September 11 world is even harder. Luckily, a roaming New York bash called Habibi ("sweetheart" in Arabic) has been developing into one of the city's most joyful club nights, drawing hundreds of gay Arab men (and a smattering of women) and their admirers, who come to groove to a compelling mix of Western and Middle Eastern beats.
Not only does Habibi serve as a delightful contrast to the media's gloomy portrayal of Arab culture, but it also reflects the excitement of a bubbling gay-pride movement. Ramzi Zakharia, a cofounder and member of the Gay and Lesbian Arab Society (GLAS), compares Habibi's celebratory vibe to that of the glory days of ACTUP, when the fight for queer liberation and getting down on the dance floor were rolled into one. "There is an intense amount of pride at these events," he says. "The dancers have this very in-your-face attitude: We're gay and we know how to have fun, and if you don't like it, then shut up and watch us dance."
Held every six weeks and promoted largely through the Internet, Habibi staged its first gathering, in early 2003, as a collaboration with GLAS and a more established gay ethnic party, Desilicious, which is a magnet for South Asian folks. Since then, Habibi has popped up at several Manhattan clubs, including a Pride celebration in June at the Slide/Marquee, which transformed the basement into a hookah lounge. This weekend, the shindig marks a milestone by moving into its biggest space yet: the midtown nightclub Shelter. "I would say that this is the only party of its kind in the United States, if not the world," its promoter and founder, DJ Iz, proudly declares.
The party is a colorful affair, featuring belly dancers (one of the most popular male dancers is Israeli), Arab music videos projected on the walls and occasional drag performances. For the upcoming move to Shelter, Laritza Dumont is all set to shake and shimmy as Shakira, the Colombian-Lebanese pop star. Another frequent guest is roly-poly Egyptian drag queen Sultana, who bills herself as queen of the "Middle East Village." "The party highlights the sensual and fabulous parts of Middle Eastern culture," Sultana says.
But Habibi is hardly a trip to the old Casbah. "People coming to hear traditional music will be surprised," says DJ Iz, who takes dance and pop tracks from the Middle East's thriving music scenes and blends them with hits from the U.S., Europe and Latin America. "I spend hours and hours going through every song—editing, remixing, adding and taking out certain parts. You'll hear Destiny's Child or Madonna, but not in the way that you've ever heard them before." The party goers respond more than enthusiastically, and throughout the night dancers hop onstage to passionately sing along to their favorite tunes.
Inhibitions aren't all that's cast aside at Habibi—the cultural and nationalist differences that plague the Middle East. "You have guys from Morocco, Jordan, Saudi Arabia, Algeria and all these other countries, Christians and Muslims," says a party devotee named Sami. "Everyone is really chill and just out to have a good time." For many fans, including immigrants still in the closet to their traditional families, Habibi has become a must-attend happening. "A lot of people put it on their calendars and come in from different cities," Zakaria says. "I think you can compare it on a much smaller scale to a circuit party, minus the drugs."
Habibi's dance floor also accommodates plenty of non-Arabs. "Many of them love the music and the culture," DJ Iz says, "and some of them are interested in dating Arab guys." (Zakharia confides that these guys are playfully known as "hummus queens.") But the party's atmosphere isn't overly cruisey. Instead, DJ Iz says, the revelers provide a dose of sensuality. "It's a beautiful thing to see an Indian, a white guy, an Arab and an Asian, all dancing to the same music and moving in the way that they want to express themselves."
Habibi is at Shelter Saturday 24 at 10pm. See listings.