Clubs
By Time Out editors Tue Aug 26 2008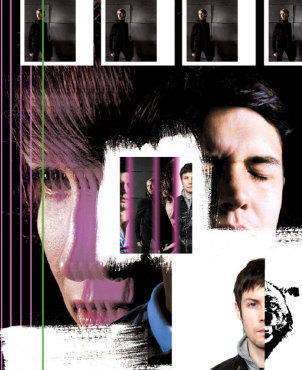 Time Out Ratings :
<strong>Rating: </strong>0/5
If you book it, they will come...
The team behind the techrotastic Minimoo parties is counting on a slew of top DJs to bring the crowds to the first ever Minitek fest.
By Bruce Tantum
Clockwise from top: Richie Hawtin, Heartthrob, Ambivalent and Magda
It was in last year's Fall Preview issue that we bemoaned the lack of dance-music festivals in NYC, while hailing nightlife impresario Larry Tee's attempt to rectify that situation by tossing the big Dance Music Invasion 2007 confab. "Dance music is as big as ever," he said, "and the time is totally right for this." But even the high-energy Mr. Tee couldn't quite pull off the feat. The weeklong gala came and went with a whimper, and Dance Music Invasion 2008…well, there isn't one.
But hope springs eternal, and this season—if all goes according to plan—the city will be treated to not one but two clubbing carnivals. First up is Made Event's big Sunday School for Degenerates weekend, based on the Miami party of the same name (see this week's Clubs section for more on that). The other, and perhaps more ambitious, is Minitek, a three-day, all-star techno hoedown slated to run September 12–14. The nighttime parties will be held in the massive Penn Plaza Pavilion; by day, Minitek takes place in the shadow of the Cyclone, in the large empty lot north of Astroland Park on Coney Island.
Minitek's producers, Jenny Tan and Daniele Laudonio, are known to New York's electronic-music community as the team behind Minimoo, the semisecret parties (rooftops, warehouses and Ping-Pong parlors are favored venues) that have been stoking the city's techno fires for the past two years. "When I moved here in 2006," Tan recalls, "I didn't have any intention of doing parties; I was here to get my master's degree in global fashion management at FIT." A friend had told her that she'd be unhappy with the music in NYC, but Tan wasn't buying: "I said, 'Nah—it's New York. I'm sure I'll find something.' And I remember thinking, Well, if it doesn't exist, I'll make it exist."
It didn't, and she did: The Minimoo nights are among the most anticipated on Gotham's clubbing calendar. The party focuses on the minimal end of the techno spectrum ("No singing!" Tan stresses), with dozens of local and international artists playing at the 30-odd editions so far. That success has given Minitek the juice to score some of electronic dance music's top talent, including the Mobilee label's Pan-Pot, Spectral Sound's Audion, Get Physical's M.A.N.D.Y. and Heidi, and a huge chunk of the Minus label's roster—Magda, Marco Carola, Ambivalent, Troy Pierce, Marc Houle and big gun Richie Hawtin. And that's just a fraction of the schedule.
Magda, a onetime NYC resident now living in the techno Valhalla of Berlin, has high hopes that the Minitek posse can pull this off. "There's all the trouble with permits and laws and just dealing with the city that you don't get elsewhere," she says, "so it's cool that Jenny is attempting this. And really, it's about time—when you think about a party like Warm Up that draws thousands every week, it seems like there are enough people to make this really good."
Tan is aiming high, hoping for perhaps 8,000 revelers over the event's three days, but it won't be just music that lures those crowds. The festival will also feature something called "Innovation," an exhibition of electronic-oriented art and technological doodads curated by Magnus Bischofberger and Jasmin Ruiz Blasco, the pair behind L.A.'s Catalog Records. And they know their audience, which will be more in the mood for dancing than for anything that stresses the cranium. "The work has to be immediately engaging," Blasco explains. "It has to be things that are interactive, that are very tactile, and that you can easily play with in a very intuitive fashion."
On the eve of such a massive undertaking, it's natural that the Minitek crew has a few butterflies. "It's only now, when I think about what we're putting together, that I realize how crazy it actually is," Tan says. "Every now and then I look at this lineup and go, Really? How did we do this? We're taking baby steps, but at least we're constructing roads that we won't have to construct again when we do this in 2009." It's a path that, just maybe, will help lead NYC back to dance-music dominance.
Minitek runs Sept 12–14. For information and tickets go to minitekfestival.com.
NEXT: Long live the King! NYC's rulin' house-music label solidifies its reign with a 15th-anniversary celebration.»
More in Clubs
If you book it, they will come... | Long live the King! | The odds
---
ART | BOOKS | CLASSICAL | CLUBS | COMEDY | DANCE | EAT OUT | FILM | MUSIC | THEATER
DOWNLOAD ALL EVENTS: GOOGLE CAL | for iCAL
DOWNLOAD PDFs: November | October | September
Long live the King!
NYC's rulin' house-music label solidifies its reign with a 15th-anniversary celebration.
By Bruce Tantum
Set in the no-man's-land between the West Village and Canal Street, Manhattan's King Street is nothing much to look at, a modest three-and-a-bit-block stretch of asphalt lined with garage doors and sterile office buildings. But for dance-music historians, the street is the center of the universe: From 1976 until 1987, an erstwhile parking depot located at 84 King was the Paradise Garage. The fabled boîte, helmed by resident DJ Larry Levan, forged one of New York's lasting contributions to the clubbing universe: a deep, powerful and emotion-drenched R&B-based style that reverberates through the city to this day. The Garage sound developed into soulful house, and the main repository for that music is the seminal label King Street Sounds, which in early September celebrates its 15th anniversary with the release of a retrospective CD, 15 Years of Paradise, along with a big birthday bash at Cielo on October 10. The discography of King Street and its Nite Groove imprint runs more than 500 singles deep and is stuffed with stone-cold classics; below, a few of TONY's faves.
Althea McQueen
"Changes" (1993)
It's not the inaugural King Street release—that honor goes to Loop Trick's "Beat Freak." But "Changes," the label's second single, captures its ethos perfectly, with bumping production by Blaze, intense belting from McQueen, and bittersweet yet uplifting lyrics dealing with the inevitability of life's twists and turns.
Brooklyn Friends
"Philadelphia" (1995)
Just as there are few labels more associated with New York than King Street, there aren't many DJs as intrinsically linked with local house history as David Morales. (He deejayed steadily from the mid-'80s to mid-'90s, so we'll forgive the fact that he hardly ever plays Gotham anymore.) Here, working with Peter Daou and Satoshi Tomiie on keys, Paul Shapiro on reeds and Steve Thornton on percussion, the superstar creates a loving homage to the '70s disco sound of labels like Philly International and Salsoul.
Urban Soul
"Sex on My Mind" (1995)
The original version, from producer Roland Clark, under the name Urban Soul, is plenty good enough—but it's all about the remix here, from acid-house progenitor DJ Pierre. Stomping, grinding and more than a little creepy (the vocal consists entirely of a male voice intoning the title over and over for the track's 11 minutes), it marked a wild departure for the label, and a signal that King Street was willing to mess with the soulful-house template.
Kerri Chandler
"Bar A Thym" (2005)
Chandler is one of King Street's company men; by our count he's produced or remixed 20 tracks for the label. He's most known for the bumping, deep style of music known sometimes as Jersey sound, and other times simply (and fittingly) as Garage. But on this track, Chandler both funkifies his sound (there are cowbells all over the place) and adds a bit of techno to the mix, signaling a new electronic direction that the label is still exploring.
Mondo Grosso
"Souffles H" (1995)
One of King Street's biggest hits, the oddly monikered "Souffles H" (produced by Mondo Grosso/Osawa Shinichi) is a defining moment in the city's house history. A favorite at hallowed clubs such as Sound Factory Bar, the track certainly was among the label's first forays into jazzy house, with a massive flute hook and jumpy beat that's imprinted on the brains of all veteran New York clubbers.
Win a Prize Package from King Street Sounds!
Legendary house-music label King Street Sounds is turning 15, and they want you to be in on the celebration. Five lucky readers will win a prize package that includes 10 free downloads at BeatPort.com, a jewel-encrusted Kings Street Records temporary tattoo, and best of all, 15 Years of Paradise, a funktabulous retrospective CD featuring tracks hand-picked by 15 DJs, guaranteeing a dance-worthy look back at a decade-and-a-half of groove. Enter now and get down with your funky (hipster) self.
More in Clubs
If you book it, they will come... | Long live the King! | The odds
---
ART | BOOKS | CLASSICAL | CLUBS | COMEDY | DANCE | EAT OUT | FILM | MUSIC | THEATER
DOWNLOAD ALL EVENTS: GOOGLE CAL | for iCAL
DOWNLOAD PDFs: November | October | September
ODDS
of a big-name DJ striking a messianic pose: 98%
When Faithless came out with "God Is a DJ" back in '98, we guessed that the band was being a bit metaphorical. Still, playing to thousands of adoring fans who wildly cheer your every move undoubtedly does wonders for one's ego. Especially since they're cheering you for essentially doing nothing but playing other people's music. Maybe that's why Armin van Buuren (pictured, who plays here Halloween night), Ferry Corsten (Oct 10), Fedde Le Grand (Nov 14) and all the other superstar spinners coming to NYC this fall can't seem to refrain from that festival-party classic, the "bow before me, minions" maneuver. By the way, the 2 percent uncertainty is in case Paul Oakenfold, the master of such gesticulations, fails to hit the city this season.
More in Clubs
If you book it, they will come... | Long live the King! | The odds
---
ART | BOOKS | CLASSICAL | CLUBS | COMEDY | DANCE | EAT OUT | FILM | MUSIC | THEATER
DOWNLOAD ALL EVENTS: GOOGLE CAL | for iCAL