Coati Mundi
The onetime August Darnell sidekick releases a fab new album.
By Bruce Tantum Mon Oct 11 2010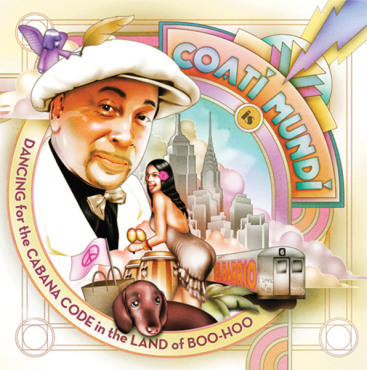 As hype man for the August Darnell--fronted bands Dr. Buzzard's Original Savannah Band and Kid Creole & the Coconuts, Coati Mundi was a comic-foil sidekick to Darnell's ladies'-man persona, sort of a Jerome to the Time's Morris Day. But the diminutive, zoot suited Mundi, born Andy Hernandez, was more than a mere court jester— officially a coleader of the Coconuts, he's a multi-instrumentalist (most known for his vibes work), and was the arranger and producer of much of the Ze Records roster. He also scored a number of club hits on his own, notably 1980's red-hot "Me No Pop I"—but for two decades, he gave up recording in favor of acting. Last summer, Hernandez reappeared with an EP, a teaser for a full-length album, on DJ Spun's Rong Music label. That LP, Dancing for the Cabana Code in the Land of Boo-Hoo, is finally here—and it was worth the wait.
Coproduced by the U.K.'s E-Love (with a little help from NYC's own Lee Douglas, who also designed the spot-on cover), the set sees Hernandez's lovable-goofball image largely intact—there's not much subtext to the lyrics of "Wanna Go to the Mall" and "I Love My Dog (Do Do Do)"—but this is serious music, an amalgam of Afro-Latin percussion, house-music bump and a studio sheen that's both dance-floor-friendly and aurally adventurous. "It's All About the Money, Money" updates the boogaloo of his native Spanish Harlem for a modern clubbing audience; "Voyage Libertad to the Boat Dance," marries an Afro-tinged groove to acid house; and "Dancing Disco 101" is a dense, percussion-heavy entry in the modern-disco canon. Here's hoping that we don't have to wait another 20 years for the next Coati Mundi release.
Dancing for the Cabana Code in the Land of Boo-hoo (Rong Music)