Electric Zoo mixes
Hear hot sets from some of this year's artists and DJs.
By Bruce Tantum Thu Aug 25 2011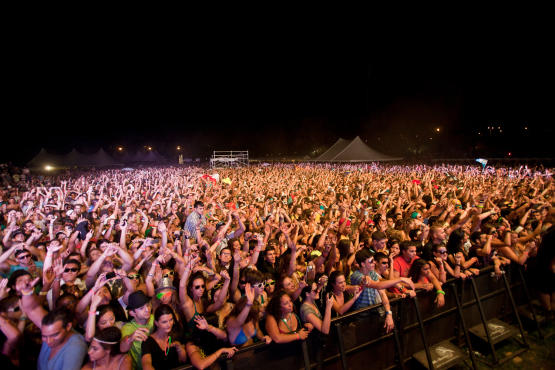 Electric Zoo Photograph: Bennett Sell-Kline
Summer is careering toward its finish, which is kind of frightening, since many of us haven't even gotten started on our warm-weather activities yet. Living in a big, bustling city will do that to a person, but there's still hope—Made Event's Electric Zoo Festival is returning for its third go-round on what we can only hope will be a sun-drenched Randalls Island. The grand electronic-music gathering, running from Friday, September 2, to Sunday, September 4, is heftier than ever, with its approximately 100 artists and DJs ranging from none-bigger superstars (Tiësto, David Guetta et al.) to underground talents along the lines of Nicolas Jaar, Tokimonsta and Chordashian. Can't wait for the festival itself? Do you need to bomp to the beat right now? You're in luck—TONY has scored red-hot sets from a bevy of Electric Zoo's biggest stars and best talents. And here they are!
RECOMMENDED: Complete Electric Zoo guide
1. John Digweed: The ever-popular head honcho of the Bedrock label lays down an exclusive set of teched-up deepness.

John Digweed's Time Out New York Mix by TimeOutNewYork
Visit: http://soundcloud.com/timeoutnewyork 2. Tiga: Montreal's musical rabble-rouser, the top dog of the long-running Turbo Recordings. delivers a mix that's bouncey, squelchy and tons of fun.

Tiga's Oxegen set by TimeOutNewYork
3. Gui Boratto: The brilliant Brazilian music maker intersperses his usual swirling-synth melodicism with throbbing deep-tech rhythms.

Gui Boratto: Paris by TimeOutNewYork
4. Ferry Corsten: Here's a huge slab of fist-pumping, trance-tinged tuneage from the Dutch vet.

Ferry Corsten mix by TimeOutNewYork
5: Carl Cox: The master of festival techno, Coxie comes through with a mix of heavily caffeinated, razor-sharp rhythms.

Carl Cox August mix by TimeOutNewYork
6: Daedelus: He's not only the nattiest beatsmith in L.A., but he's also capable of delivering some of the craziest, and oddly soulful sounds you're likely to hear at this year's EZ.

Daedelus by TimeOutNewYork
7: Benny Benassi: Pop-rave icon Benassi is relatively subdued on this mix (even with the presence of his somewhat majestic "Cinema"), but he's still capable of getting those glowstick-wielding hands in the air.

Benny Benassi mix by TimeOutNewYork
8: Joachim Garraud: The French big-room boffin, creator of this hyperactive-carnival-house mix (whee!), has been known to wield a keytar when he plays live.

Joachim Garaud Mix August 2011 by TimeOutNewYork