Horse Meat Disco
The London party celebrates a new mix-CD.
By Bruce Tantum Tue Sep 15 2009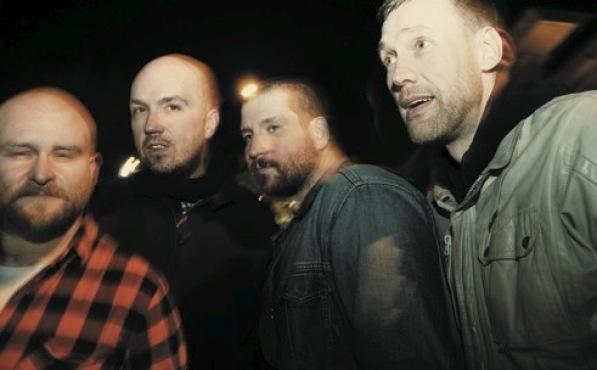 FOUR HORSEMEN OF THE DISCO APOCALYPSE The Horse Meat Disco boys celebrate their glittering new mix-CD. Photograph: Darrell Berry
"The Eagle is basically a small South London boozer in Vauxhall. It's right by a village green, which back in the days of Samuel Pepys used to be called the Vauxhall Pleasure Gardens," Jim Stanton, one of the founders of the gay-leaning Horse Meat Disco, says about his party's beloved home base. "It was where sailors, gentlemen of distinction and people from all walks of life would turn up for drugs, drink, sex, scandal and all that sort of thing. So it's a perfect location. And the Eagle itself has a kind of circular thing about the place—so you can cruise while you do laps." As Stanton, of the defunct dance-music mag Jockey Slut, speaks, one can hear the affection that he has for the Eagle—and why not? After all, the spot, home of the Horse Meat Disco crew for five of the party's six years, is the springboard that has elevated the bash from local curiosity to international clubbing brand. He and his cohorts—cofounder James Hillard (from the dearly departed Nuphonic label) and DJs Severino and Filthy Luka—have just put out a self-titled mix-CD on the Strut label, and they'll be celebrating the release with a rooftop shindig at the Hudson Terrace on Sunday 20, with Stanton and Severino manning the decks.
As its name implies, the party is disposed toward disco—but don't expect much in the way of "Boogie Oogie Oogie" or "Ring My Bell." While not fixated on out-obscuring other such disco-inclined affairs, the HMD crew favors a deep and pure form of the sound, focusing on quality while still keeping the fun factor intact. The mix-CD itself serves as a good primer, with beautifully funky jams from the likes of Karen Young, Gino Soccio and Greg Diamond, not to mention the gorgeous Larry Levan dub of Smokey Robinson's "And I Don't Love You."
It's not exactly the kind of music that one usually finds at modern-day, gay-oriented affairs, which in London (like NYC) tend to substitute subtlety with sounds that give a visceral, more immediate thrill. "At the time we started this, it was kind of funky-house hell in London," Stanton recalls, "and all the music you would hear in gay clubs was this filtered, looped stuff. We would all go home from the clubs early—alone, uninspired, and high—and listen to really good records, thinking, God, we've got to do something about this. And when we finally started Horse Meat Disco and played this music, no one came; people simply couldn't understand it. There was no one else on the gay scene doing it, though in the straight scene, there was a small group—people like Ashley Beedle, DJ Harvey, the Idjut Boys or DJ Cosmo—that had been pushing that kind of thing. But now we're playing in Australia, the States...I think we're going to Japan soon. It's well beyond what we ever thought would happen, it's safe to say."
Besides the music itself, one of the secrets of Horse Meat Disco's success is straight people—especially women. "Most of what I think of as gay parties in London are very heterophobic," Stanton explains, "but we hate that. Right now, I'd say we get, like, a 70--30 gay-to-straight mix, which seems to work for us. We've always made it clear with our promotions that Horse Meat Disco is for everyone, absolutely anyone, and I think the music that we play kind of assures that. Frankly, if anyone came up to us and said, 'There's too many girls in here'—which people occasionally do say—we'd just give them their money back and throw them out. Girls are really important, since they're usually the first ones to dance. Whenever girls come in, we're like, 'Well, thank God for that.'"
Horse Meat Disco is at Hudson Terrace Sun 20; Horse Meat Disco (Strut) is out now.
It's Alright - Gino Soccio